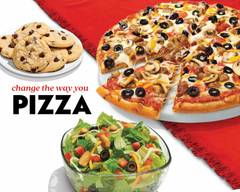 Papa Murphy's Pizza (TX119 4130 S. Bowen Road)
View delivery time and booking fee.
Location and hours
Sunday - Thursday
10:00 AM - 09:00 PM
Friday - Saturday
10:00 AM - 10:00 PM
If you love meat takeout like most users in Arlington, you'll be pleased to know it's offered at Papa Murphy's Pizza. Wish you could ask someone what's best here? The Chicken Bacon Artichoke is one of the most ordered items on the menu and the Pepperoni and the S'mores Bars are two of the items most commonly ordered together at this after...
Show more
If you love meat takeout like most users in Arlington, you'll be pleased to know it's offered at Papa Murphy's Pizza. Wish you could ask someone what's best here? The Chicken Bacon Artichoke is one of the most ordered items on the menu and the Pepperoni and the S'mores Bars are two of the items most commonly ordered together at this afternoon go-to. • ¢ •
Pizza
4130 S. Bowen Road, Arlington, TX 76016 • More
---
New! Crustless Pizzas - Keto Friendly (Baking Required)

Create Your Own Crustless - Keto Friendly (Baking Required)

Choose your sauce (or no sauce at all!) and add up to 5 toppings for best results. Toppings that are Keto-friendly are marked with "KF".

Papa's All Meat - Keto Friendly (Baking Required)

Traditional Red Sauce, Whole-Milk Mozzarella, Canadian Bacon, Salami, Premium Pepperoni, Italian Sausage and Ground Beef, and Cheddar. To make this Keto-friendly, simply change the Traditional Red Sauce to Creamy Garlic Sauce or Olive Oil & Garlic Sauce. Macros for this entire tray with the default build are Fats: 108g, Proteins: 88g, Carbs: 25g

Cowboy - Keto Friendly (Baking Required)

Traditional Red Sauce, Whole-Milk Mozzarella, Premium Pepperoni, Italian Sausage, Sliced Mushrooms, Black Olives, Cheddar, and Herb & Cheese Blend without the Crust. To make this Keto-friendly, simply change the Traditional Red Sauce to Creamy Garlic Sauce or Olive Oil & Garlic Sauce. Macros for this entire tray with the default build are Fats: 100g, Proteins: 75g, Carbs: 28g

Papa's Favorite - Keto Friendly (Baking Required)

Traditional Red Sauce, Whole-Milk Mozzarella, Premium Pepperoni, Italian Sausage, Ground Beef, Sliced Mushrooms, Mixed Onions, Green Peppers, Black Olives, and Cheddar. To make this Keto-friendly, simply change the Traditional Red Sauce to Creamy Garlic Sauce or Olive Oil & Garlic Sauce. Macros for this entire tray with the default build are Fats: 104g, Proteins: 77g, Carbs: 33g

Chicken Bacon Artichoke - Keto Friendly (Baking Required)

Creamy Garlic Sauce, Whole-Milk Mozzarella, Grilled Chicken Raised Without Antibiotics, Crispy Bacon, Marinated Artichoke Hearts, Fresh Spinach, Aged Parmesan and Zesty Herbs without the Crust. This recipe is Keto-friendly, but still fully customizable. Macros for this entire tray with the default build are Fats: 89g, Proteins: 91g, Carbs: 21g

Gourmet Vegetarian - Keto Friendly (Baking Required)

Creamy Garlic Sauce, Whole-Milk Mozzarella, Fresh Spinach, Sliced Zucchini, Sliced Mushrooms, Marinated Artichoke Hearts, Roma Tomatoes, Mixed Onions, Cheddar, and Herb & Cheese Blend. This recipe is Keto-friendly, but still fully customizable. Macros for this entire tray with the default build are Fats: 79g, Proteins: 57g, Carbs: 23g

Classics and Specials Pizza (Baking Required)

Our Original Crust topped with Traditional Red Sauce, Whole-Milk Mozzarella and Mild Cheddar.

Pepperoni (Baking Required)

Our Original Crust topped with Traditional Red Sauce, Whole-Milk Mozzarella, Mild Cheddar, and Premium Pepperoni. OUR PIZZA. YOUR OVEN. NOT AS CRAZY AS IT SOUNDS.

The Papa's Perfect (Baking Required)

Our Original Crust topped with Traditional Red Sauce, Whole-Milk Mozzarella and Cheddar, and half Premium Pepperoni, half Canadian Bacon and Pineapple. OUR PIZZA. YOUR OVEN. NOT AS CRAZY AS IT SOUNDS.

XLNY Giant Pepperoni & Ground Sausage

Garlic Traditional Red Sauce, Whole-Milk Mozzarella, Giant Pepperoni, Ground Sausage, Fresh-Grated Parmesan, Zesty Herbs, and Herb & Cheese Blend, all on an extra-large, foldable New York Style Crust. (Available through July 21)

Garlic Traditional Red Sauce, Whole-Milk Mozzarella, Giant Pepperoni, Fresh-Grated Parmesan, Zesty Herbs, and Herb & Cheese Blend, all on an extra-large, foldable New York Style Crust. (Available through July 21)

Garlic Traditional Red Sauce, Whole-Milk Mozzarella, Fresh-Grated Parmesan, Zesty Herbs, and Herb & Cheese Blend, all on an extra-large, foldable New York Style Crust. (Available through July 21)

Cheese Faves (Baking Required)

A classic pizza with Mozzarella

Pepperoni Faves (Baking Required)

A classic pizza with Mozzarella & Pepperoni

Sausage Faves (Baking Required)

A classic pizza with Mozzarella & Italian Sausage

Signature Pizza (Baking Required)

Our Original Crust topped with Traditional Red Sauce, Whole-Milk Mozzarella, Premium Pepperoni, Italian Sausage, Sliced Mushrooms, Black Olives, Cheddar, and Herb & Cheese Blend. OUR PIZZA. YOUR OVEN. NOT AS CRAZY AS IT SOUNDS.

Murphy's Combo (Baking Required)

Our Original Crust topped with Traditional Red Sauce, Whole-Milk Mozzarella, Salami, Premium Pepperoni, Italian Sausage, Sliced Mushrooms, Mixed Onions and Black Olives, and Cheddar. OUR PIZZA. YOUR OVEN. NOT AS CRAZY AS IT SOUNDS.

BBQ Chicken (Baking Required)

Our Original Crust topped with Bold BBQ Sauce, Whole-Milk Mozzarella, Chicken Raised Without Antibiotics, Crispy Bacon, Roma Tomatoes, Mixed Onions, and Cheddar

Chicken Garlic (Baking Required)

Our Original Crust topped with Creamy Garlic Sauce, Whole-Milk Mozzarella, Grilled Chicken Raised Without Antibiotics, Roma Tomatoes, Green Onions, Cheddar, and Herb & Cheese Blend. OUR PIZZA. YOUR OVEN. NOT AS CRAZY AS IT SOUNDS.

Papa's All Meat (Baking Required)

Our Original Crust topped with Traditional Red Sauce, Whole-Milk Mozzarella, Canadian Bacon, Salami, Premium Pepperoni, Italian Sausage and Ground Beef, and Cheddar. OUR PIZZA. YOUR OVEN. NOT AS CRAZY AS IT SOUNDS.

Papa's Favorite (Baking Required)

Our Original Crust topped with Traditional Red Sauce, Whole-Milk Mozzarella, Premium Pepperoni, Italian Sausage, Ground Beef, Sliced Mushrooms, Mixed Onions, Green Peppers, Black Olives, and Cheddar

Gourmet Delite Pizza (Baking Required)

Chicken Bacon Artichoke (Baking Required)

Our Artisan Thin Crust, topped with Creamy Garlic Sauce, Whole-Milk Mozzarella, Grilled Chicken Raised Without Antibiotics, Crispy Bacon, Marinated Artichoke Hearts, Fresh Spinach, Aged Parmesan and Zesty Herbs. OUR PIZZA. YOUR OVEN. NOT AS CRAZY AS IT SOUNDS.

Herb Chicken Mediterranean (Baking Required)

Our Artisan Thin Crust, topped with Olive Oil, Chopped Garlic, Whole-Milk Mozzarella, Grilled Chicken Raised Without Antibiotics, Fresh Spinach, Sun-dried Tomatoes, Crumbled Feta and Zesty Herbs. OUR PIZZA. YOUR OVEN. NOT AS CRAZY AS IT SOUNDS.

Gourmet Vegetarian (Baking Required)

Our Artisan Thin Crust, topped with Creamy Garlic Sauce, Whole-Milk Mozzarella, Fresh Spinach, Sliced Zucchini, Sliced Mushrooms, Marinated Artichoke Hearts, Roma Tomatoes, Mixed Onions, Cheddar, and Herb & Cheese Blend. OUR PIZZA. YOUR OVEN. NOT AS CRAZY AS IT SOUNDS.

Thai Chicken (Baking Required)

Our Artisan Thin Crust topped with Thai Sweet Chili Sauce, Whole-Milk Mozzarella, Grilled Chicken Raised Without Antibiotics, Sliced Zucchini, Mixed Onions, Cheddar, and Crushed Red Peppers. OUR PIZZA. YOUR OVEN. NOT AS CRAZY AS IT SOUNDS.

Greek Pepperoni (Baking Required)

Our Artisan Thin Crust topped with Traditional Red Sauce, Whole-Milk Mozzarella, Premium Pepperoni, Fresh Spinach, Black Olives, Roma Tomatoes, Feta Cheese, and Zesty Herbs. OUR PIZZA. YOUR OVEN. NOT AS CRAZY AS IT SOUNDS.

Stuffed Pizza (Baking Required)

5-Meat Stuffed (Baking Required)

Two layers of our Original Crust stuffed with Traditional Red Sauce, Whole-Milk Mozzarella, Canadian Bacon, Premium Pepperoni, Italian Sausage, Crispy Bacon and topped with Traditional Red Sauce, Ground Beef, Mozzarella and Mild Cheddar.

Chicago-Styled Stuffed (Baking Required)

Two layers of our Original Crust stuffed with Traditional Red Sauce, Whole-Milk Mozzarella, Salami, Premium Pepperoni, Italian Sausage, Ground Beef, Mixed Onions and topped with Traditional Red Sauce, Green Onions, Roma Tomatoes, Mozzarella and Mild Cheddar. OUR PIZZA. YOUR OVEN. NOT AS CRAZY AS IT SOUNDS.

Chicken Bacon Stuffed (Baking Required)

Two layers of our Original Crust stuffed with Creamy Garlic Sauce, Whole-Milk Mozzarella, Grilled Chicken Raised Without Antibiotics, Crispy Bacon, Roma Tomatoes, Mixed Onions and topped with Creamy Garlic Sauce, Roma Tomatoes, Crispy Bacon, Mozzarella and Mild Cheddar. OUR PIZZA. YOUR OVEN. NOT AS CRAZY AS IT SOUNDS.

Big Murphy's Stuffed (Baking Required)

Two layers of our Original Crust stuffed with Traditional Red Sauce, Whole-Milk Mozzarella, Premium Pepperoni, Italian Sausage, Sliced Mushrooms and Black Olives topped with Traditional Red Sauce, Green Peppers, Roma Tomatoes, Mild Cheddar and Herb & Cheese Blend. OUR PIZZA. YOUR OVEN. NOT AS CRAZY AS IT SOUNDS.

Create Your Own Pizza (Baking Required)

Create Your Own Pizza (Baking Required)

Choose your size and one of our fresh dough options, and then top your pizza with everyone's favorites.

Salad

Romaine lettuce topped with green peppers, Roma tomatoes, black olives, whole milk mozzarella, and mild cheddar cheeses.

Romaine lettuce topped with crispy bacon, Canadian bacon, Roma tomatoes, whole milk mozzarella, and mild cheddar cheese.

Romaine lettuce and fresh spinach topped with black olives, sun dried tomatoes, mixed onions, and crumbled feta cheese.

Romaine lettuce topped with shredded aged parmesan cheese.

Sides and Desserts (Baking Required)

Scratch-Made 5-Cheese Bread (Baking Required)

Fresh dough topped with our Herb Garlic Spread, ¼ pound of Whole-Milk Mozzarella, Herb & Cheese Blend, and Mild Cheddar Cheese served with a side of Marinara.

Mini Murph® Pepperoni (Baking Required)

Make 'n' Bake Pizza Kit with Red Sauce, Mozzarella & Pepperoni.

Mini Murph® Cheese (Baking Required)

Make 'n' Bake Pizza Kit with Red Sauce & Mozzarella.

Chocolate Chip Cookie Dough (Baking Required)

Fresh-made in house with Semi-Sweet Chocolate Chips.

Cinnamon Wheel (Baking Required)

Our Original Crust topped with Cinnamon Spread, Oatmeal Crisp Topping, served with Cream Cheese Frosting.

Chocolate chip cookie dough topped with marshmallows, crisp topping, and even more chocolate chips.

Beverages