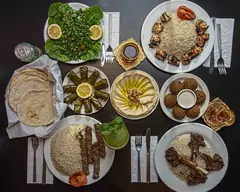 Location and hours
3701 South Harbor Boulevard, Santa Ana, CA 92704
Every Day
11:00 AM - 9:30 PM
Drink Menu (3PD)
11:00 AM - 9:30 PM
Main Menu (3PT)
Papa K's Mediterranean Kitchen
3701 South Harbor Boulevard, Santa Ana, CA 92704
Top reviews

From customers who've ordered here

KS

Food tasted real fresh!

MD

The okay delicious kibbeh. Hummus and Babaganoush! Can't wait to try the rest

SW

the bechamel pasta is always satisfying and the beef platter is filling

JC

Some of the best Mediterranean food spot around. Their lamb is the best.

DS

Food is amazing and large portions

MR

I recently dined at a restaurant and was thoroughly impressed! The food was not only...

AM

First time trying this genre of food and it was AMAZING

PB

Great food.. outstanding!

AN

The portions are generous and food is tasty.

AH

"""Delicious and fulfilling"" 🤤"

RA

A lot of food for the price

Fried Chicken Tender Combos
Top reviews
From customers who've ordered here
KS
---
MD
The okay delicious kibbeh. Hummus and Babaganoush! Can't wait to try the rest
---
SW
the bechamel pasta is always satisfying and the beef platter is filling
---
JC
Some of the best Mediterranean food spot around. Their lamb is the best.
---
DS
Food is amazing and large portions
---
MR
I recently dined at a restaurant and was thoroughly impressed! The food was not only tasty, but the portions were heaping - I definitely left feeling full and satisfied. The value for the amount of food was exceptional. The restaurant also had a very welcoming environment, with friendly staff and a comfortable atmosphere. Overall, I highly recommend this restaurant for anyone looking for a delicious meal and great dining experience.
---
AM
First time trying this genre of food and it was AMAZING
---
PB
Great food.. outstanding!
---
AN
The portions are generous and food is tasty.
---
AH
"""Delicious and fulfilling"" 🤤"
---
RA
A lot of food for the price