Panasia - Docks Menu and Delivery in Marseille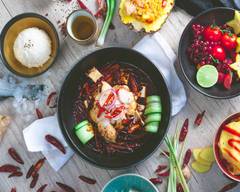 Location and hours
22 Rue Des Docks 13002, Marseille, Provence-Alpes-Côte D'Azur 13002
Sunday
Closed
Monday - Friday
11:30 AM - 2:30 PM
Notre carte
6:30 PM - 10:30 PM
Notre carte
Saturday
11:30 AM - 3:00 PM
Notre carte
6:30 PM - 10:30 PM
Notre carte
Panasia - Docks
22 Rue Des Docks 13002, Marseille, Provence-Alpes-Côte D'Azur 13002
Accepts Swile, Ticket Restaurant®, Bimpli (ex Apetiz), and Pass Sodexo
Enter your address above to see fees, and delivery + pickup estimates.
$$ •
Asian
 • 
Family Friendly
Picked for you

Bento by Panasia

Entrées

E6 Salade de tartare de saumon

E7 Salade poulet aux pommes & mangue

E9 Brochettes de boulettes de poulet

E15 Raviolis aux crevettes frits

E16 Shu mai aux crevettes

E21 Rouleau de printemps crevettes

E22 Minis rouleaux de printemps poulet

Feuille de riz avec germes de soja, vermicelles de riz, poulet, cacahuète

E20 Yakitori de bœuf fromage

Assiettes de sushi

P5 Menu sashimi (au choix)

Sushis à la carte

R1 Spring roll saumon avocat

R2 Spring roll thon mangue

C1 California saumon avocat

C1C California saumon-cheese

C2 California thon avocat

C3 California saumon avocat royal

C3C California saumon cheese royal

C4 California saumon cheese avocat mi-cuit

C5 California arc en ciel

C6 California tempura crevette

C6O California tempura crevette oignon frit

C8 California dragon royal

C9 California saumon avocat aux tobiko orange

C9W California saumon cheese tobiko wasabi

C10 California poulet pané japonais

Atelier de nouilles

N7 Soupe de raviolis aux crevettes & nouilles

Le riz quit rit

Z2 Assiette de poulet croustillant

Z3 Assiette de canard laqué à l'orange

Z4 Pavé de saumon grillé cuit

Z5 Entrecôte façon Panasia

Jardin des salades

F1 Grande salade de tartare de saumon

F2 Grande salade de poulet pomme & mangue

F4 Grande salade Thaï au bœuf

Recette Panasia

W1 Wok de légumes croquants

W2 Choux chinois sautés aux champignons noirs

W3 Brocolis sautés à la sauce d'huître

W4 Aubergines sautées façon Yuxiang

W6 Bœuf sauté au basilic thaï

W7 Bœuf sauté aux piment coréen

W8 Poulet pané aux ananas aigre doux

W10 Poulet frit sauté aux piments

W11 Canard laqué au sel et poivre

W12 Calamars frits sautés au sel et poivre

W13 Calamars à la coréenne

W14 Crevettes au basilic thaï

W15 Crevettes au sel et poivre

W16 Curry de crevettes thaï au lait de coco

W17 Filet de saumon au sel et poivre

Accompagnements

A8 Vermicelles de riz sautés aux légumes

Les bières

Boissons fraîches

Coca-Cola zéro sucres 33cl

Jus de fruits frais

Boissons Bubble Tea

B1 Thé noir au lait nature

B3 Thé noir au lait fraise

B5 Thé vert au lait matcha

B6 Thé vert au lait mangue

B7 Thé vert pêche blanche

B8 Thé vert litchi framboise

B10 Thé vert mangue passion

B11 Thé vertf raise des bois

B12 Thé vert ananas passion

Desserts

DC5 Mi-cuit coco sans gluten

DC6 Finger saveur du Japon

DC7 Cheese cake agrumes yuzu

DC10 Coupe de fruits frais
Frequently asked questions
Can I order Panasia - Docks delivery in Marseille with Uber Eats?
Yes. Panasia - Docks delivery is available on Uber Eats in Marseille.
Is Panasia - Docks delivery available near me?
Enter your address to see if Panasia - Docks delivery is available to your location in Marseille.
How do I order Panasia - Docks delivery online in Marseille?
There are 2 ways to place an order on Uber Eats: on the app or online using the Uber Eats website. After you've looked over the Panasia - Docks menu, simply choose the items you'd like to order and add them to your cart. Next, you'll be able to review, place, and track your order.
Where can I find Panasia - Docks online menu prices?
View upfront pricing information for the various items offered by Panasia - Docks here on this page.
How do I get free delivery on my Panasia - Docks order?
To save money on the delivery, consider getting an Uber One membership, if available in your area, as one of its perks is a $0 Delivery Fee on select orders.
How do I pay for my Panasia - Docks order?
Payment is handled via your Uber Eats account.
What's the best thing to order for Panasia - Docks delivery in Marseille?
If you're in need of some suggestions for your Panasia - Docks order, check out the items showcased in "Picked for you" on this page.