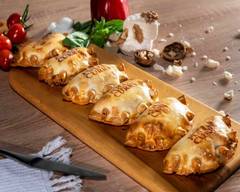 Location and hours
Calle De La Estafeta 61, Pamplona, PAM`PLONA 31001
Sunday
11:00 AM - 4:00 PM
Menú
6:30 PM - 10:00 PM
Menú
Monday - Saturday
6:30 PM - 10:00 PM
Menú
Delivery
Too far to deliver
Pickup
15–25 min • 84.2 KM
Picked for you

Panadita de Chile con Carne

Panadita de Pollo al Curry

Pack

Pack de 6 Panaditas "Las más Vendidas"

Pack de 12 Panaditas "Las más Vendidas"

Pack de 6 Panaditas + 2 Bebidas

Panaditas Gourmet

Panadita de Pollo al Curry

Panadita Veggie de Calabacín

Panadita de Chile con Carne

Panadita de Espinacas y Mozzarella

Panadita de Morcilla y Piñones

Jamón york y suave selección de quesos, la preferida de los peques.

Panaditas Supreme

Panaditas Golosos

Cookie Rellena de Nutella

Panadita de Manzana y Canela

Panadita de Nutella y Plátano

Deliciosa Nutella y plátano.

Bebidas

Cervezas

Vinos
Frequently asked questions
Can I order PANADITAS PAMPLONA delivery in Pamplona with Uber Eats?
Yes. PANADITAS PAMPLONA delivery is available on Uber Eats in Pamplona.
Is PANADITAS PAMPLONA delivery available near me?
PANADITAS PAMPLONA delivery might not be available everywhere in Pamplona, so enter your address to see if it's available near you.
How do I order PANADITAS PAMPLONA delivery online in Pamplona?
There are 2 ways to place an order on Uber Eats: on the app or online using the Uber Eats website. After you've looked over the PANADITAS PAMPLONA menu, simply choose the items you'd like to order and add them to your cart. Next, you'll be able to review, place, and track your order.
What's the best thing to order for PANADITAS PAMPLONA delivery in Pamplona?
What's best at PANADITAS PAMPLONA is totally up to you and your personal preference. If you're in need of some inspiration, consider trying one of the items featured in "Picked for you."
How do I get $0 Delivery Fee at PANADITAS PAMPLONA in Pamplona?
The Delivery Fees may vary depending on a number of factors, like your location. Enter your Pamplona address to see the current Delivery Fee. You can also explore the Uber Eats membership and subscription options available in your area to see if you can save money on PANADITAS PAMPLONA delivery with $0 Delivery Fee on select orders.