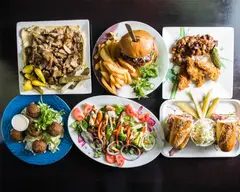 Location and hours
301 S 1st St, San Jose, CA 95113
Sunday
4:00 PM - 9:30 PM
Menu
11:00 AM - 9:30 PM
Menu
Monday - Thursday
4:00 PM - 9:30 PM
Menu
4:00 PM - 9:30 PM
Menu
Friday
4:00 PM - 9:30 PM
Menu
Saturday
4:00 PM - 9:30 PM
Menu
11:00 AM - 9:30 PM
Menu
Original Joe's
4.3 (28 ratings) • American • $
  •  
Read 5-Star Reviews
  •  
More info
Tap for hours, info, and more
Delivery
25–40 min • $0.49
Picked for you

Original Joe's Famous Hamburger (3/4 lb)

Ground chuck, swiss cheese, and grilled, or broiled.

Spaghetti with Meat & Mushroom Sauce

Dinner Salads with Meals

Breakfast Specials

Ground chuck sauteed with onions, spinach, and eggs.

Hamburger Steak & Eggs (8 oz)

Ham or bacon, cheddar cheese, and eggs. Served on a ciabatta roll.

Onion, bell peppers, or jalapeno, cheese, potatoes, and choice of ham, bacon, or Italian sausage.

Starters

Sauteed Spinach with Bacon

Roasted Tomato Bruschetta

Salads

Broiled chicken, salami, garbanzo beans, shredded Monterey Jack, and tomato.

Crab, shrimp, hard boiled egg, avocado, black olives, mixed vegetables, and tomato.

Classic Sandwiches

Served with steak fries or side salad.

Served with steak fries or side salad.

Italian Sausage with Onions & Peppers Sandwich

Served with steak fries or side salad.

Served with steak fries or side salad.

Served with steak fries or side salad.

Served with steak fries or side salad.

Grilled Sandwiches

Tuna salad with melted cheddar cheese. Served with steak fries or side salad.

Grilled Chicken Pesto Sandwich

Pesto, melted Monterey Jack cheese, and tomato on grilled sourdough. Served with steak fries or side salad.

Pesto, roasted tomato puree, creamy havarti, pancetta chip, and arugula on grilled sourdough. Served with steak fries or side salad.

Burgers

Original Joe's Famous Hamburger (3/4 lb)

Ground chuck, swiss cheese, and grilled, or broiled.

"Joe's Special" Burger (8 oz)

Burger with spinach, mushroom, onion, havarti cheese, bacon, and egg.

The "Bambino" Burger (8 oz)

Burger, roasted tomatoes, fontina cheese, pancetta chip, and arugula. Broiled or grilled.

1/2 pound burger, red onions, lettuce, tomato, pickles and cheese

Pasta

Spaghetti Pomodoro (Tomato Basil)

Spaghetti with Meat & Mushroom Sauce

Half Spaghetti & Half Ravioli

Fettuccine Alfredo with Smoked Ham & Peas

Penne with Chicken & Broccoli

Chicken

Charcoal Broiled Chicken Breasts

Chicken Liver Sauteed with Mushrooms

Chicken Sec with Mushrooms

Steaks and Chops

Served with certified Angus steaks. Aged and prepared in our own butcher shop.

Served with certified Angus steaks. Aged and prepared in our own butcher shop.

Served with certified Angus steaks. Aged and prepared in our own butcher shop.

Served with certified Angus steaks. Aged and prepared in our own butcher shop.

Kansas City N.Y. Strip (27 oz)

Served with certified Angus steaks. Aged and prepared in our own butcher shop.

Special Top Sirloin (14 Oz.)

Served with certified Angus steaks. Aged and prepared in our own butcher shop.

Served with certified Angus steaks. Aged and prepared in our own butcher shop.

Served with certified Angus steaks. Aged and prepared in our own butcher shop.

Porter House Steak (30 oz)

Served with certified Angus steaks. Aged and prepared in our own butcher shop.

Seafood

Sauteed Scallops (Lemon Caper Sauce)

Entrees

Sweetbreads Sautee with Mushrooms

Veal Scaloppini with Fresh Mushrooms

Veal Scaloppini Sec with Mushrooms

Calf's Liver Sautee with Mushrooms

Calf's Liver with Bacon & Onions

Dessert

Beverages

Acqua Panna Still Water (500 mL)

San Pellegrino Sparkling Water (250 ml)
5-Star Reviews
Hear from people who love this spot
Veal parm-veggies terrific, great portion. Missing requested utensils. Sad that once complimentary bread is no more. Will order again.
---
Amazing chicken cacciatore; the best.
---
The best restaurant in San Jose. The food are tasty. Blue cheese dressing is a bomb. Prime Rib always is the best of the best.
---
The service is excellent! The food is great and well portion
Frequently asked questions
Can I order Original Joe's delivery in San Jose with Uber Eats?
Yes. Original Joe's delivery is available on Uber Eats in San Jose.
Is Original Joe's delivery available near me?
Original Joe's delivery might not be available everywhere in San Jose, so enter your address to see if it's available near you.
How do I order Original Joe's delivery online in San Jose?
There are 2 ways to place an order on Uber Eats: on the app or online using the Uber Eats website. After you've looked over the Original Joe's menu, simply choose the items you'd like to order and add them to your cart. Next, you'll be able to review, place, and track your order.
What's the best thing to order for Original Joe's delivery in San Jose?
What's best at Original Joe's is totally up to you and your personal preference. If you're in need of some inspiration, consider trying one of the items featured in "Picked for you."
How do I get $0 Delivery Fee at Original Joe's in San Jose?
The Delivery Fees may vary depending on a number of factors, like your location. Enter your San Jose address to see the current Delivery Fee. You can also explore the Uber Eats membership and subscription options available in your area to see if you can save money on Original Joe's delivery with $0 Delivery Fee on select orders.