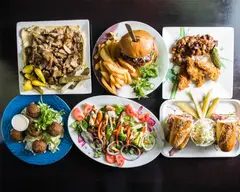 Location and hours
301 S 1st St, San Jose, CA 95113
Sunday
4:00 PM - 9:30 PM
Menu
11:00 AM - 9:30 PM
Menu
Monday - Thursday
4:00 PM - 9:30 PM
Menu
4:00 PM - 9:30 PM
Menu
Friday
4:00 PM - 9:30 PM
Menu
Saturday
4:00 PM - 9:30 PM
Menu
11:00 AM - 9:30 PM
Menu
Original Joe's
301 S 1st St, San Jose, CA 95113
Delivery • Pickup
Opens at 4:00 PM
Picked for you

Spaghetti with Meat & Mushroom Sauce

Spaghetti Pomodoro (Tomato Basil)

Original Joe's Famous Hamburger (3/4 lb)

Ground chuck, swiss cheese, and grilled, or broiled.

Dinner Salads with Meals

Breakfast Specials

Ground chuck sauteed with onions, spinach, and eggs.

Hamburger Steak & Eggs (8 oz)

Onion, bell peppers, or jalapeno, cheese, potatoes, and choice of ham, bacon, or Italian sausage.

Ham or bacon, cheddar cheese, and eggs. Served on a ciabatta roll.

Starters

Salads

Classic Sandwiches

Grilled Sandwiches

Burgers

Pasta

Chicken

Steaks and Chops

Seafood

Entrees

Dessert

Beverages
5-Star Reviews
Hear from people who love this spot
The best restaurant in San Jose. The food are tasty. Blue cheese dressing is a bomb. Prime Rib always is the best of the best.
---
Amazing chicken cacciatore; the best.
---
Veal parm-veggies terrific, great portion. Missing requested utensils. Sad that once complimentary bread is no more. Will order again.
---
Great beef dishes good baked potatos and good portions!
---
Large portions. Great sauce.
---
The service is excellent! The food is great and well portion