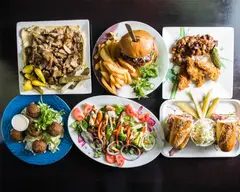 Original Joe's
Location and hours
Sunday
04:00 PM - 09:30 AM
Menu
11:00 AM - 09:30 PM
Menu
Monday - Thursday
04:00 PM - 09:30 AM
Menu
04:00 PM - 09:30 PM
Menu
Friday
04:00 PM - 09:30 AM
Menu
Saturday
04:00 PM - 09:30 AM
Menu
11:00 AM - 09:30 PM
Menu
---
Picked for you

Original Joe's Famous Hamburger (3/4 lb)

Ground chuck, swiss cheese, and grilled, or broiled.

Spaghetti with Meat & Mushroom Sauce

Half Spaghetti & Half Ravioli

Dinner Salads with Meals

Breakfast Specials

Ground chuck sauteed with onions, spinach, and eggs.

Hamburger Steak & Eggs (8 oz)

Ham or bacon, cheddar cheese, and eggs. Served on a ciabatta roll.

Onion, bell peppers, or jalapeno, cheese, potatoes, and choice of ham, bacon, or Italian sausage.

Starters

Sauteed Spinach with Bacon

Roasted Tomato Bruschetta

Salads

Tuna, salami, mixed vegetables, and tomato.

Broiled chicken, salami, garbanzo beans, shredded Monterey Jack, and tomato.

Crab, shrimp, hard boiled egg, avocado, black olives, mixed vegetables, and tomato.

Classic Sandwiches

Served with steak fries or side salad.

Served with steak fries or side salad.

Served with steak fries or side salad.

Italian Sausage with Onions & Peppers Sandwich

Served with steak fries or side salad.

Served with steak fries or side salad.

Served with steak fries or side salad.

Served with steak fries or side salad.

Joe's Traditional Cheeseburger (8 oz)

Served with steak fries or side salad.

Grilled Sandwiches

Tuna salad with melted cheddar cheese. Served with steak fries or side salad.

Grilled Chicken Pesto Sandwich

Pesto, melted Monterey Jack cheese, and tomato on grilled sourdough. Served with steak fries or side salad.

Pesto, roasted tomato puree, creamy havarti, pancetta chip, and arugula on grilled sourdough. Served with steak fries or side salad.

Roasted Vegetable Grilled Sandwich

Roasted red pepper sauce, sauteed artichokes, grilled eggplant, grilled zucchini, roasted red peppers, creamy havarti, and arugula on grilled sourdough. Served with steak fries or side salad.

Burgers

Original Joe's Famous Hamburger (3/4 lb)

Ground chuck, swiss cheese, and grilled, or broiled.

"Joe's Special" Burger (8 oz)

Burger with spinach, mushroom, onion, havarti cheese, bacon, and egg.

The "Bambino" Burger (8 oz)

Burger, roasted tomatoes, fontina cheese, pancetta chip, and arugula. Broiled or grilled.

Pasta

Spaghetti Pomodoro (Tomato Basil)

Spaghetti with Meat & Mushroom Sauce

Half Spaghetti & Half Ravioli

Fettuccine Alfredo with Smoked Ham & Peas

Penne with Chicken & Broccoli

Chicken

Charcoal Broiled Chicken Breasts

Chicken Liver Sauteed with Mushrooms

Chicken Sec with Mushrooms

Steaks and Chops

Served with certified Angus steaks. Aged and prepared in our own butcher shop.

Served with certified Angus steaks. Aged and prepared in our own butcher shop.

Served with certified Angus steaks. Aged and prepared in our own butcher shop.

Served with certified Angus steaks. Aged and prepared in our own butcher shop.

Kansas City N.Y. Strip (27 oz)

Served with certified Angus steaks. Aged and prepared in our own butcher shop.

Special Top Sirloin (14 Oz.)

Served with certified Angus steaks. Aged and prepared in our own butcher shop.

Served with certified Angus steaks. Aged and prepared in our own butcher shop.

Served with certified Angus steaks. Aged and prepared in our own butcher shop.

Porter House Steak (30 oz)

Served with certified Angus steaks. Aged and prepared in our own butcher shop.

Seafood

Sauteed Scallops (Lemon Caper Sauce)

Entrees

Sweetbreads Sautee with Mushrooms

Veal Scaloppini with Fresh Mushrooms

Veal Scaloppini Sec with Mushrooms

Calf's Liver Sautee with Mushrooms

Calf's Liver with Bacon & Onions

Dessert

Beverages

San Pellegrino Sparkling Water (250 ml)
Came here or dinner 2 months ago on a Friday. Reservations were made a few days prior so that was convenient. It's like who has time to wait anymore? Parking wasn't that bad for a Friday. The COVID restrictions were recently lifted for indoor dining so it didn't feel like a Friday downtown. I was...  
---
Indoor dinning is BACK at Original Joes! We sat at the counter to watch the chefs show and it felt amazing to be back inside. We ordered the 18 oz New York broiled at the suggestion of our server. It takes about 15 min longer but boy was the flavor terrific. Baked potato, side dinner...  
---
If you haven't heard, OJ's is back!! Indoor dining and all!!Being one of the first restaurants I ate at when I first moved to SJ 40 years ago, it has seen some changes but it remains to be one of San Jose's most popular restaurants. Known for its hearty meat portions and spaghetti & meatballs,...  
---
My first time here. I was surprised it was so packed here for a Monday. Server was very attentive and the portions are huge! We had ordered the following : - prime rib with side of ravioli (yes that's totally a thing) - side of fries - crab cakes - spinach with bacon (so much...  
---
Original Joe's features passable, old school Italian cuisine. These days, it almost seems out of place in hip, international downtown San Jose, but it definitely serves to feed a specific crowd that still exists in the area, so it's nice that it's able to remain. I have several friends who swear by this restaurant, and...  
---
Another great Friday date night! I really liked this salad and my husband's steak was pretty darn close to how he likes it. This restaurant has been in our restaurant rotation for almost 20 years.
See more on Yelp