Ohana Hawaiian BBQ Menu and Delivery in San Francisco Bay Area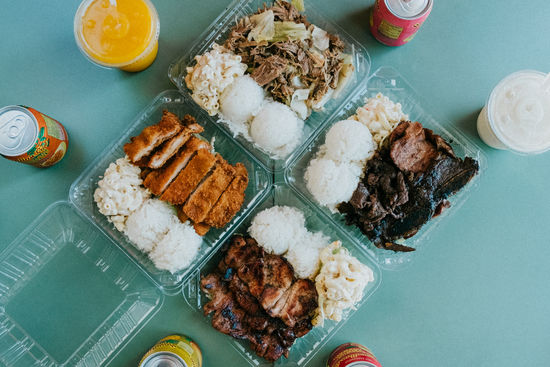 Location and hours
2661 Blanding Ave, Alameda, CA 94501
Sunday
11:00 AM - 09:00 PM
Menu
11:00 AM - 09:30 PM
Catering
Monday - Thursday
10:30 AM - 09:00 PM
Menu
11:00 AM - 09:30 PM
Catering
Friday
10:30 AM - 09:00 PM
Menu
11:00 AM - 10:00 PM
Catering
Saturday
11:00 AM - 09:00 PM
Menu
11:00 AM - 10:00 PM
Catering
Ohana Hawaiian BBQ
4.5 (93 ratings) • Hawaiian • $
  •  
Read 5-Star Reviews
  •  
More info
2661 Blanding Ave, Alameda, CA 94501
Tap for hours, info, and more
Enter your address above to see fees, and delivery + pickup estimates.
$ • Hawaiian
 • 
BBQ
 • 
Family Meals
Picked for you

Ohana Specials

Salad & Appetizers

Hawaiian BBQ Chicken Salad

Chicken

Seafood

A healthy choice of seasonal grilled fish.

Beef and Pork

Family Meal

Ohana Supa Bowl

Musubi and Saimin (Soup Noodles)

Paradise Burgers and Fries

Two beef patties, two cheese slices, Island sauce, lettuce, tomato, and onions.

All beef patty, slice of cheese, lettuce, and tomato.

Hawaiian BBQ Chicken Burger

Grilled chicken, Island sauce, lettuce, and tomato.

Fried chicken meat, Island sauce, lettuce, and tomato.

Hawaiian favorite spam with an added egg (optional) served in a sesame burger bun. It's a must try!

Island fish fried to perfection and served in a sesame bun.

Taco

Side Order

Beverages

Hawaiian Sunrise Smoothie

Hawaiian Chi Chi Smoothie

Extra Sauce

Reusable Bag

Alameda County Reusable Bag Ordinance

As of May 1, 2017, this ordinance expanded to include ALL retail stores in Alameda County, and as of November 1, 2017, also includes all eating establishments and food delivery services.
5-Star Reviews
Hear from people who love this spot
its great and the prices are good too!
---
Tasty and well portioned!
---
Great food, consistent quality.
---
Ohana Hawaiian BBQ is so yummy! We love they that they have differed sizes - the bowl and the plate. The chicken katsu is my fav, love the veggies! It's hit with the whole fam.
---
Beacuse is the best food in the world 🔥
---
the loco moco is everything
---
Love the food and the price cost!
---
---
Because there food is great
---
The food is delicious! Never disappoints!
---
Cause it's super hot hot fire
---