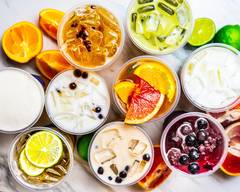 Location and hours
313 Se Huron Blvd, Minneapolis, MN 55414
Sunday - Thursday
12:00 PM - 09:00 PM
Friday - Saturday
12:00 PM - 09:30 PM
Mu Mu Tea
4.9 (100+ ratings) • Coffee and Tea • $
  •  
Read 5-Star Reviews
  •  
More info
313 Se Huron Blvd, Minneapolis, MN 55414
Tap for hours, info, and more
Enter your address above to see fees, and delivery + pickup estimates.
Wish you could ask Mu Mu Tea customers what's best here? Of the 80 things on the menu at this evening go-to, the Brown Sugar Milk Tea is one of the most-ordered items. • $ •
Coffee and Tea
 • 
American
 • 
Desserts
 • 
AAPI-owned
Picked for you

Mixed flavor of passion fruit, orange, and pineapple

Wheel cake & dessert

8 inch oval shape purple yam flavor

Taro salted egg yolk cake

Taro ball, purple yam ball, sweet potato ball, bubble, crystal bubble, pudding, and herbal jelly.

Mixed flavors in set of 3 pieces

Milk tea

Roasted hazelnut milk tea

Roasted hazelnut milk tea

Ginger brown sugar milk tea

Modern latte

Soymilk with crystal bubble

Matcha red bean mud latte

Strawberry matcha bubble latte

Sweet potato bubble latte

Caffeine free. mix before drinking

Caffeine free. mix before drinking

Fruit tea

Mixed berry four seasons tea

Winter melon tea

Winter melon jasmine milk tea

With jasmine green milk tea

Yakult

Milk cap macchiato

Deep roast oolong macchiato

Four seasons tea macchiato

Tea latte

Grandma's black tea latte

Classic tea

Coffee
5-Star Reviews
Hear from people who love this spot
---
mu mu good like tea time and triple boba powa
---
I love Mu Mu tea so much because they have the best boba tea to me.
---
Best boba shop in town imo
---
Love there Tea and good service
---
Best matcha with boba This is the perfect thing to fulfill your craving
---
Cup quality and drink quality are really good!
---