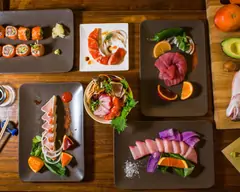 Location and hours
2411 Southeast 122nd Avenue, Portland, OR 97233
Every Day
11:00 AM - 8:30 PM
Momiji Sushi Restaurant
Delivery
40–55 min • $0.49
Picked for you

Momiji Combos

Beginner Sushi Platter (8 Rolls)-(68 pcs)

100% (3)

Chef's choice nigiri sushi (6 pieces) and crunchy salmon roll (8 pieces). Includes miso soup and cucumber salad. The consumption of raw or undercooked meats and seafood may increase the risk of foodborne illness.

Blackened tuna sashimi (5 pieces), nigiri (6 pieces), (5 pieces) of spicy shrimp tempura roll, (8 pieces) of rainbow roll, and seaweed salad. Includes miso soup and cucumber salad. The consumption of raw or undercooked meats and seafood may increase the risk of foodborne illness.

Sushi rice topped with 10 slices of BBQ eel, coated with eel sauce, and sesame seeds. Includes miso soup and cucumber salad. The consumption of raw or undercooked meats and seafood may increase the risk of foodborne illness.

Soft Drinks

Sugar-free sparkling water with fruit flavors, 0 calories, 11.2 FL OZ (330ml)

Appetizers

Nigiri

Mini Rolls

Classic Rolls

Specialty Rolls

Tempura Rolls

Premium Rolls

Frozen
5-Star Reviews
Hear from people who love this spot
delicious and quick sushi!
---
It hits the spot every time. Such amazing sushi and attention to detail with quality! :):)
---
My favorite sushi in Pdx. ❤️
---
Great quality sushi and always tastes delicious! The blackened salmon appetizer is especially good
---
I first enjoyed Momijis many years ago in Salem and again when a restaurant opened in Albany. now I am able to enjoy all of my sushi favorites right here in Portland!!
---
Fast and fresh!! Love the tempura salmon rolls especially.
---
I love the options and I can always find something new to try. It is very delicious!
---
Tasty food, and great customer service! Food is presented very well!
---
Best TOGO sushi in the Portland area. Fast, clean, and absolutely delicious!
---
---