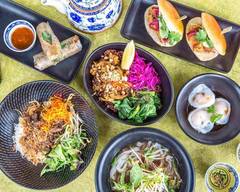 Location and hours
111 Cecil St, South Melbourne VIC 3205
Sunday
12:00 PM - 8:30 PM
Menu
Monday - Thursday
11:00 AM - 8:30 PM
Menu
Friday
11:00 AM - 8:30 PM
Menu
11:00 AM - 9:00 PM
Menu
Saturday
12:00 PM - 9:00 PM
Menu
Misschu
111 Cecil St, South Melbourne VIC 3205
Lemongrass Beef Vermicelli Salad [GF]

Turmeric Chicken Breast Vermicelli Salad [GF, nuts]

Seared Atlantic Salmon, Berry Rice & Quinoa [GF]

Prawn and Crab Net Spring Rolls [GF]

Beef Pho [Hormone-Free, Grass-Fed]

Seared Atlantic Salmon Vermicelli Salad [GF]

Wok'd Chicken Breast Pho [Beef Stock]

Steamed Bao Bun

Fried Chicken and Asian Slaw Bao Bun

91% (1750)

Braised Beef Brisket and Asian Slaw Bao Bun

94% (1214)

Spicy Corn Fritter and Asian Slaw Bao Bun

95% (648)

Steamed Dumplings & Buns

Shitake Mushroom and Vegetable Dumpling [VG]

94% (535)

Deep Fried Spring Rolls

Prawn and Crab Net Spring Rolls [GF]

96% (1296)

Hanoi Vegetarian Net Spring Rolls [V, GF, Vegan fish sauce]

96% (871)

Roast Duck & Taro Net Spring Rolls [GF]

94% (17)

Other Sharing Things

Crisp Slaw Salads

Vermicelli Noodle Salads

Organic Berry Rice, Organic Quinoa and Asian Greens

Mixian Noodles

Soups

Kids Meals

Sauces and Chillis

Drinks

Desserts
5-Star Reviews
Hear from people who love this spot
---
---
Fantastic flavours, great portion sizes.
---
The food is so good. Great value for money. The fried chicken is amazing!
---
Fast delivery and delicious food!
---
---
---
Healthies and cheapest I ever seen in Melbourne
---
Food is always perfect & so yummy
---
Definitely a very good Southern Vietnamese vermicelli salad, will come back for more
---
---
---
---
---
Quick turn around for 16 meals and great delivery.
---
So delicious and fresh, fantastic portions too!
---
---
Yom yom yom gomble gomble
---
Always fresh and presented well, great taste, order regularly and have never been disappointed !
---
I loved the tumeric chicken, so tasty and fresh. And the sauce gives it an extra element of deliciousness!
---
---
Food that hits just right
---
Always consistent and quality. Love it.
---
---
---
Good clean food fast delivery
---
---
Was delicious, quick and convenient.
---
---
---
Excellent food and fast preparation without compromising on quality
---
Great dumplings and salad!
---
---
---
Fresh and flavoursome and wok'd in olive oil
---
---
---
---
Great Pho, quick delivery.
---
Always delicious and fresh!
---
Healthy and satisfying. The perfect combination.
---
---
---
---
---
Curry shirataki noodles is so good!
---
---
Delicious, spicy and flavoursome pho. Spring rolls are a winner, a bit expensive but worth every cent.
---
---
---
Delicious, fresh food. We enjoyed it so much. Sometimes, with food that is delivered, it has spoiled by the time you actually get to eat it, but this was delicious! Chicken Bao were a bit spicier than expected but the Spring rolls were exceptional!
---
fresh and clean, my favourite quick and easy option
---
Great price! Fresh and tasty
---
---
Tapioca pot with mango and coconut is always a must! Love the ginger prawn dumpling soup too :))) yummm
---
Always delicious and fresh, so much flavour and healthy options
---
Always quick, super delicious and super healthy! I never get sick of misschu and I can get it weekday lunch and dinner or on weekends - it's always great.
---