Mint Menu and Delivery in London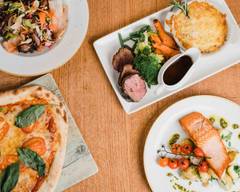 Location and hours
Sunday
09:00 AM - 11:00 AM
Breakfast
Monday - Saturday
12:00 PM - 09:00 PM
Midweek and Saturday Main Menu
09:00 AM - 11:00 AM
Breakfast
Mint
Enter your address above to see fees, and delivery + pickup estimates.
Picked for you

FORESTIÈRE CHICKEN BREAST*

WHITE CHOCOLATE & RASPBERRY TART (V)

STARTERS

RED PEPPER & ARTICHOKE ARANCINI (VE)

KING PRAWN & MANGO COCKTAIL*

MAINS

FORESTIÈRE CHICKEN BREAST*

VEGETABLE PENANG CURRY (VE)

SALADS

CHARGRILLED SKEWERS

LEMON & THYME KING PRAWNS

STEAKS

STONE-BAKED PIZZAS

BURGERS

SIDES

BEANS, BROCCOLI & PUMPKIN SEEDS (V)

ROSEMARY & TRUFFLE INFUSED OIL FRIES (VE)

PEAS, SMOKED PANCETTA & SPRING ONION

DESSERTS

WHITE CHOCOLATE & RASPBERRY TART (V)

CHILDREN'S

DRINKS

PERONI 0.0% ALCOHOL FREE LAGER 330ML

REKORDERLIG STRAWBERRY LIME 500ML

REKORDERLIG WILD BERRIES 500ML

J2O ORANGE & PASSIONFRUIT 275ML

LUISELLA PINOT GRIGIO ROSE
Mint has a FHRS rating of 5. This information was updated on 28/05/2022. The current rating is on their page on the FSA Website. We are not able to provide delivery and self-collection meals for guests with food allergies or intolerances at this time. However, we can cater for specific dietary requirements at our restaurant so please visit and eat in with us instead. Our kitchens use ingredients containing the following allergens: Celery, Cereals containing Gluten, Crustaceans, Egg, Fish, Lupin, Milk, Molluscs, Mustard, Nuts, Peanuts, Sesame, Soya and Sulphites (over 10ppm) and there is a risk of cross contamination from these allergens. For any questions regarding our dishes, please contact the restaurant directly. Click here if you would like to see detailed allergen information, including the allergen content of specific dishes. Adults need around 2000 kcal a day.