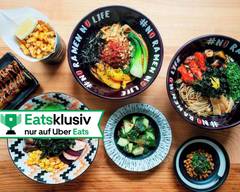 Location and hours
Mattengasse 13, Zürich, ZH 8005
Sunday - Monday
Closed
Tuesday - Friday
11:30 AM - 01:30 PM
Menü
06:00 PM - 09:30 PM
Menü
Saturday
12:00 PM - 01:30 PM
Menü
06:00 PM - 09:30 PM
Menü
Midori Ramen
3.9 (18 ratings) • Japanese • $$$
  •  
More info
Mattengasse 13, Zürich, ZH 8005
Tap for hours, info, and more
Delivery • Pickup
Opens Tuesday 11:30 AM
Picked for you

Tantanmen

Grilled Leek Miso

Veggie Gyoza (5 Stück)

Umemoro Cucumber

Shoyu Ramen

Otsumami to Share

Kleine Portion Kimchi (Scharf)

vegan. scharf.

Edamame

Natto

Umemoro Cucumber

Hiyayakko

Midoriʻs salada

Grilled Leek Miso

Veggie Gyoza (5 Stück)

Donburi

Tantan Don (Scharf)

vegan. scharf.

Grilled Veggie Don

Midori's Homemade Ramen

Tantanmen

vegan. scharf.

Shoyu Ramen

Miso Ramen

Mushroom Ramen

Desserts

Chocolate Matcha Cake

Mochidaifuku (2 Stück)

Alkoholfreie Getränke

Mangajo Yuzu Iced Tea 0.25l

Geschmack: Classic
Beste japanische Softdrink

Cold Japanese Green Tea 0.3l

Apero-Getränke

Sparkling Sake Mio Dry 0.3l

Bier

Wein

Schmätterling Rose Wein 0.75l

La Corte del Pozzo BIO Rotwein 0.75l

Sake

Sho Chiku Bai Junmai Ginjo 0.3l
Food allergies, specific food instructions or questions about the origin of meat: Please contact the restaurant directly at +41445158720 before ordering.
Frequently asked questions
Can I order Midori Ramen delivery in Zurich with Uber Eats?
Yes. Midori Ramen delivery is available on Uber Eats in Zurich.
Is Midori Ramen delivery available near me?
Midori Ramen delivery might not be available everywhere in Zurich, so enter your address to see if it's available near you.
How do I order Midori Ramen delivery online in Zurich?
There are 2 ways to place an order on Uber Eats: on the app or online using the Uber Eats website. After you've looked over the Midori Ramen menu, simply choose the items you'd like to order and add them to your cart. Next, you'll be able to review, place, and track your order.
What's the best thing to order for Midori Ramen delivery in Zurich?
What's best at Midori Ramen is totally up to you and your personal preference. If you're in need of some inspiration, consider trying one of the items featured in "Picked for you."
How do I get $0 Delivery Fee at Midori Ramen in Zurich?
The Delivery Fees may vary depending on a number of factors, like your location. Enter your Zurich address to see the current Delivery Fee. You can also explore the Uber Eats membership and subscription options available in your area to see if you can save money on Midori Ramen delivery with $0 Delivery Fee on select orders.