Hungry? Don't wait!
Mettricks Guildhall isn't available right now. Try one of these similar options.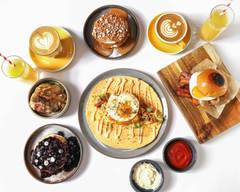 Location and hours
Guildhall Place, Southampton, Emea, So14 7bj,
Every Day
9:00 AM - 4:00 PM
Picked for you

Biscoff Pancake

Breakfast

Vegan Breakfast Wrap

Vegan Full English Breakfast

Pancakes

Bacon & Maple Syrup Pancake

Blueberry Pancake

Biscoff Pancake

Banana, Pecan Pancake & Maple Syrup

Toasties

Vegan Cheese & Pepper Toastie

Burgers

6oz Beef Patty with Burger Sauce & Baby Gem

Moving Mountains Burger

A Vegan Patty with Burger Sauce & Baby Gem

Sides

Coffee

Iced Coffee

Vanilla Ice Cream Frappuccino

Salted Caramel Frappuccino

Tea, Hot Choc & Other

Smoothies

Strawberry Split Smoothie

Ice Cream Shakes

Vegan Biscoff & Banana Shake

Chocolate & Peanut Butter Shake

Epic Strawberry Cheesecake Shake

Seriously Chocolate Brownie Shake
ALLERGIES: If you or someone you're ordering for has an allergy, please contact the merchant directly to let them know. Mettricks Guildhall has a FHRS rating of 5. This information was updated on 08/12/2022. The current rating is on their page on the FSA Website. Adults need around 2000 kcal a day.