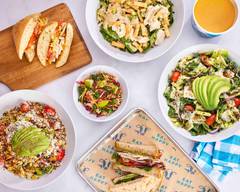 Location and hours
401 San Antonio Road, 64, Mountain View, CA 94040
Every Day
10:45 AM - 9:00 PM
Mendocino Farms (Mountain View)
401 San Antonio Road, 64, Mountain View, CA 94040
Pickup
20–30 min • 309.7 mi
Ways to save

Picked for you

Avocado & Quinoa Superfood Ensalada

The Impossible Taco Salad

"Not So Fried" Chicken Sandwich

Sweet Heat Crispy Thai Chicken

CHEF'S CREATIONS

SANDWICHES

"Not So Fried" Chicken Sandwich

Sweet Heat Crispy Thai Chicken

Chimichurri Steak & Bacon

Mendo's Original Pork Belly Banh Mi

SALADS

In order to keep your salad fresh, all dressings will be provided on the side.


1/2 SANDWICH COMBOS

Half sandwich paired with a deli side or cup of soup

KID'S MENU

Served with a beverage & choice of side (organic milk +$2.25)


DELI SIDES & SOUPS

COOKIES

BEVERAGES

CHIPS

UTENSILS

In an effort to be green, we will only provide utensils when requested. So if you would like utensils included with your order, please add this item to your cart!
5-Star Reviews
Hear from people who love this spot
It's great! Delicious, healthy, and reliable.
---
The salads here are some of the best I've ever had. The flavors are complex, the greens are super fresh, the savory and creamy items are well proportioned to one another, and my dear hope is they can maintain this quality in the long run.
---
I love the salads & the tofu is great. It's my favorite salad place.
---
Delicious fresh sandwiches and vegan options! 10/10 rating! :)
---
Outstanding salad. Best we have had!
---
always fresh and delicious
---
Ingredients always taste fresh
---
---
---
It's yummy! Get the banh mi!
---
---
---