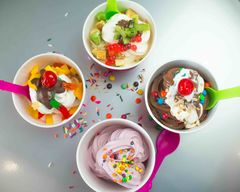 Location and hours
26865 Sierra Hwy, Santa Clarita, CA 91321
Every Day
11:00 AM - 08:30 PM
Too far to deliver
Menchie's Frozen Yogurt (26865 Sierra Hwy)
4.7 (17 ratings) • Desserts • ¢
  •  
More info
26865 Sierra Hwy, Santa Clarita, CA 91321
Enter your address above to see fees, and delivery + pickup estimates.
This spot is one of the 3 most popular Dessert takeout spots in all of Santa Clarita. Wish you could ask someone what to order here? The Frozen Yogurt is one of things that gets the most orders of the a number of items on the menu at this evening go-to. • ¢ •
Desserts
 • 
Ice Cream + Frozen Yogurt
Frozen Yogurt

$6.00

Build your own Frozen Yogurt.