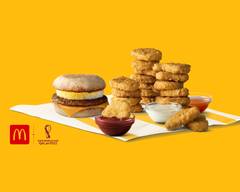 Location and hours
1045 W Randolph St, Chicago, IL 60607
Sunday
6:00 AM - 10:59 AM
Breakfast
11:00 AM - 4:59 PM
Lunch
5:00 PM - 9:15 PM
Dinner
Monday - Friday
6:00 AM - 10:29 AM
Breakfast
10:30 AM - 4:59 PM
Lunch
5:00 PM - 9:15 PM
Dinner
Saturday
6:00 AM - 10:59 AM
Breakfast
11:00 AM - 4:59 PM
Lunch
5:00 PM - 9:15 PM
Dinner
McDonald's® - Global Menu Restaurant
Enter your address above to see fees, and delivery + pickup estimates.
Most Popular

Global Favorites

Double Deluxe Kaiser Meal

Hershey's Dark Chocolate McFlurry

Homestyle Breakfasts

Combo Meals

Sausage Egg Cheese Biscuit Meal

Bacon Egg Cheese McGriddle Meal

Bacon Egg Cheese Bagel Meal

Hash Browns and Sides

Caesar Salad with Chicken and Bacon

McCafé® Coffees

Medium Premium Roast Coffee

Medium Iced Caramel Coffee

Medium Iced French Vanilla Coffee

Medium Peppermint Hot Chocolate

Medium Premium Hot Chocolate

Medium Iced Peppermint Mocha

Medium Iced Caramel Mocha

Medium Sugar Free Vanilla latte

Medium Iced Caramel Latte

Medium Iced French Vanilla Latte

Medium Iced Sugar Free Vanilla Latte

Medium Vanilla Cappuccino

Medium Sugarfree Vanilla Cappuccino

Medium Hazelnut Cappuccino

Medium Caramel Cappuccino

McCafé Bakery

Sweets and Treats

Condiments

Sweet N Sour Dipping Sauce

Beverages

Medium Minute Maid® Orange Juice

Honest Kids® Organic Apple Juice Drink

Medium Unsweetened Iced Tea

Medium Strawberry Banana Smoothie

Medium Mango Pineapple Smoothie

Individual Items

Hot N Spicy McChicken Biscuit

Sausage Egg Cheese Biscuit

Bacon Egg Cheese McGriddle

Sausage Egg Cheese McGriddle

Hot & Spicy McChicken McGriddle
2,000 calories a day is used for general nutrition advice, but calorie needs vary. Additional nutrition information available upon request. Click here.