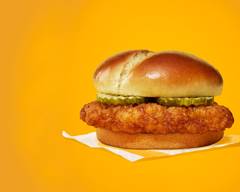 Location and hours
2700 Guess Rd, DURHAM, NC 27705
Sunday
5:30 AM - 10:59 AM
Breakfast
11:00 AM - 4:59 PM
Lunch
5:00 PM - 11:30 PM
Dinner
Monday - Friday
5:30 AM - 10:29 AM
Breakfast
10:30 AM - 4:59 PM
Lunch
5:00 PM - 11:30 PM
Dinner
Saturday
5:30 AM - 10:59 AM
Breakfast
11:00 AM - 4:59 PM
Lunch
5:00 PM - 11:30 PM
Dinner
McDonald's® (2700 GUESS RD)
2700 Guess Rd, DURHAM, NC 27705
Enter your address above to see fees, and delivery + pickup estimates.
At this late night go-to, the Big Mac is one of the most ordered items on the menu and the Double Quarter Pounder with Cheese and the Quarter Pounder with Cheese are two of the items most commonly ordered together. • $ •
American
 • 
Burgers
 • 
Fast Food
Most Popular

Steak Egg Cheese Bagel Meal

Medium French Vanilla Latte

Sausage Egg Cheese McGriddle Meal

Bacon Egg Cheese Biscuit Meal

Homestyle Breakfasts

Big Breakfast with Steak and Hotcakes

Big Breakfast with Bacon & Hotcakes

Sausage Gravy Biscuit Meal

Combo Meals

Hash Browns and Sides

McCafé® Coffees

McCafé Bakery

Sweets and Treats

Condiments

Shareables

Beverages

Individual Items
5-Star Reviews
Hear from people who love this spot
La mejor comida que he provado
---
i know this food is bad for you and all, but im telling you it is the best food you will ever eat!
---
---
---