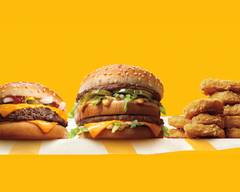 Location and hours
1302 Westheimer, HOUSTON, TX 77006-2615
Sunday
7:00 AM - 10:59 AM
Breakfast
11:00 AM - 4:59 PM
Lunch
5:00 PM - 10:30 PM
Dinner
Monday - Friday
6:00 AM - 10:29 AM
Breakfast
10:30 AM - 4:59 PM
Lunch
5:00 PM - 10:30 PM
Dinner
Saturday
6:00 AM - 10:59 AM
Breakfast
11:00 AM - 4:59 PM
Lunch
5:00 PM - 10:30 PM
Dinner
McDonald's® (1302 Westheimer)
1302 Westheimer, HOUSTON, TX 77006-2615
Enter your address above to see fees, and delivery + pickup estimates.
Most Popular

Homestyle Breakfasts

Combo Meals

Hot N Spicy McChicken Biscuit

Bacon Egg Cheese McGriddle Meal

Hash Browns and Sides

McCafé® Coffees

Medium Premium Roast Coffee

Medium Iced Caramel Coffee

Medium Iced Hazelnut Coffee

Medium Iced French Vanilla Coffee

Medium Premium Hot Chocolate

Medium Caramel Hot Chocolate

Medium Iced Caramel Macchiato

Medium Iced Caramel Mocha

Medium Iced Caramel Latte

Medium Iced Hazelnut Latte

Medium Iced French Vanilla Latte

Medium Vanilla Cappuccino

Medium Hazelnut Cappuccino

Medium Caramel Cappuccino

McCafé Bakery

Sweets and Treats

Condiments

Sweet N Sour Dipping Sauce

Hot Mustard Dipping Sauce

Beverages

Medium Minute Maid® Orange Juice

Honest Kids® Organic Apple Juice Drink

Medium Unsweetened Iced Tea

Medium Strawberry Banana Smoothie

Medium Mango Pineapple Smoothie

Individual Items

Hot N Spicy McChicken Biscuit

Bacon Egg Cheese McGriddle

Sausage Egg Cheese McGriddle

Hot & Spicy McChicken McGriddle
5-Star Reviews
Hear from people who love this spot
Food got here on time and fresh thank you!
---
Rapido y la mejor atencion de todas!
---
---
quick and fast with great service