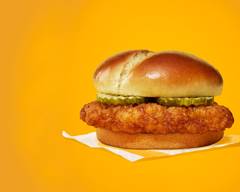 Location and hours
1010 N Miami Blvd, DURHAM, NC 27703
Sunday
6:00 AM - 10:59 AM
Breakfast
11:00 AM - 3:59 PM
Lunch
4:00 PM - 11:30 PM
Dinner
Monday - Thursday
5:00 AM - 10:29 AM
Breakfast
10:30 AM - 3:59 PM
Lunch
4:00 PM - 11:30 PM
Dinner
Friday
5:00 AM - 10:29 AM
Breakfast
10:30 AM - 3:59 PM
Lunch
4:00 PM - 12:30 AM
Dinner
Saturday
6:00 AM - 10:59 AM
Breakfast
11:00 AM - 3:59 PM
Lunch
4:00 PM - 12:30 AM
Dinner
McDonald's® (1010 N MIAMI BLVD)
1010 N Miami Blvd, DURHAM, NC 27703
Enter your address above to see fees, and delivery + pickup estimates.
Wish you could ask someone what's popular here? The Cheeseburger is one of the most popular items on the menu and the Double Quarter Pounder with Cheese and the McDouble are two of the items most commonly ordered together at this midday go-to. • $ •
American
 • 
Burgers
 • 
Fast Food
Most Popular

Bacon Ranch McCrispy Meal

Combo Meals

Bacon Ranch Deluxe McCrispy Meal

McNuggets & Meals

Fries

Shareables

Happy Meal

McCafé® Coffees

McCafé Bakery

Condiments

Sides & More

Sweets & Treats

Beverages

Individual Items
5-Star Reviews
Hear from people who love this spot
The food was amazing and everything was cooked to perfection. I would order from this restaurant again!
---
It was amazing. The taste was great and exceptional!!!
---
Of course the Mail/Big Mac and Fries was Great! And the Delivery was Fast! Will do it again!
---
The food was fresh and tasted good.
---
---
---
---
---
---
---
---
---
---
---
---
---
---