Mad Chicken Menu and Delivery in Milwaukee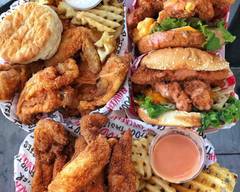 Location and hours
2045 E North Ave, Milwaukee, WI 53202
Sunday
12:00 AM - 03:00 AM
Online Menu
11:00 AM - 03:00 AM
Online Menu
Monday - Thursday
11:00 AM - 03:00 AM
Online Menu
Friday
11:00 AM - 11:59 PM
Online Menu
Saturday
Closed
Mad Chicken
4.6 (100+ ratings) • American • $$
  •  
Read 5-Star Reviews
  •  
More info
2045 E North Ave, Milwaukee, WI 53202
Tap for hours, info, and more
Enter your address above to see fees, and delivery + pickup estimates.
SANDWICHES

#3 GRILLED CHICKEN SANDWICH *

#5 BUFFALO CHICKEN HOAGIE *

TENDERS

WINGS

BOWLS

SIDES

WRAPS

SALADS *

Breakfast

FRIED OREO

DIPPING SAUCES

Italian Dressing Dipping Sauce

Thousand Island Dressing Dipping

Hot Honey Garlic Dipping Sauce

Mango Habanero Dipping Sauce

Sweet Spicy BBQ Dipping Sauce

Hot Buffalo Dipping Sauce

Garlic Parm Dipping Sauce

Sweet Chili Dipping Sauce

Honey Mustard Dipping Sauce

Mad Sriracha Dipping Sauce

DRINKS
5-Star Reviews
Hear from people who love this spot
---
Loaded fries were so good!!!
---
They have the best of the best
---
Amazing hoggie, best I have ever had!
---
It's very good & cooked just right
---
---
---
---
I love how clean they is and they food is really good
---
Usually quick fresh and hot
---
they have good chicken and they deliver fast
---
---
---
I love the chicken tenders
---
Love y'all BBQ wraps, and I barely eat but those are good
---
---
Not a fan just something quick to order for my son
---
It's close to my house, kind of cheap, and the food is straight
---
---
---
they always have late night chicken
---
their tenders are especially juicy crisp. Open late nights and quality service every time.
---
Their sauce slaps and wings are great. Get sweet n spicy barbecue it's killer. Or hot honey garlic
---
---
Favorite food place in the city
---
---
They have my favorite sauce and I love the speed of the preparation
---
Food is always fresh n hot
---
---
I don't know if it was Mad Chicken our the driver but HALF our order was missing.
---
---
---
---
---
---
They're food is delicious. The service is great.
---
The food is great! Thank you so much
---
---
Their motto says it all, real food tastes bettter!
---
Cus the food is delicious and they give u large portions😏
---
Always delicious, delivery's fast af too
---
---
good chicken and sauce, but they keep forgetting all the sauce ordered and sodas
---
Great sandwich and loved the fried pickles!
---
---
the best chicken sandwiches I've ever had.
---
---
The chicken it always fresh and juicy
---
My favorite chicken joint
---
---
---
The chicken is just amazing!!
---
---
---
---
Their chicken be M A D good
---
It's close and the breading is bomb
---
---
It was hot and quickly delivered!!! LOVE LOVE LOVE y'all's chicken tenders!!! 🤗
---
---
---
The food is Delicious I love it
---
Amazing chicken, price and crazy fast delivery
---
Subhash Chandra Mahesh K.
7 months ago
Dope sandwiches, dope wings, and they always keep the napkins on deck!
---
i love their sandwiches its good portions for a reasonable price
---
Juicy, fresh, and delicious. Every time 😁
---
Subhash Chandra Mahesh K.
7 months ago
This is the best chicken I've ever seen and tasted in the universe yum yummm\n
---
Subhash Chandra Mahesh K.
7 months ago
---
---
---
Subhash Chandra Mahesh K.
7 months ago
It's pretty good, fries are hit or miss chicken absolutely slaps
---
---
---
---
---
---
great food, fast delivery. whats not to like!
---
---
Insanely good post bar food
---
Good food, used to be better though. Raised the price on the mad fries. I don't order as much because of this.\n
---
---
---
---
---
---
Great quality food, and always fresh!
---
---
The chicken they got just drives me Mad wit hunger🤤definitely a 10/10 spot chicken so good make you wnna smack yo momma‼️‼️
---
---
THE FOOD IS REALLY GOOD AND FRESH!!
---
---
---
---
I love their hot wings!!!
---
I have never had a bad meal from Mad Chicken. I usually always get the Mad Fries with Mad Sauce and I swear every time it tastes better than I remember.
---
The BEST chicken sandwich I've ever had!!
---
---
The chicken is so fresh it's unbelievable
---
Great consistency and food !
---
Excellent service, quality of food, location, and employees!
---
---
I love mad chicken sooo much cuz they're mad fries are untouchable. too bad they raised the price :(
---
---
---
I just think the food is really fresh and the taste is on point not only that I feel like it's all balanced
---
---
It is the best late night snack around!
---
They're the only thing open but they also never give me the sauce I ask for and I'm on a failed mission to make it happen
---
---
---
mad chicken got the best chicken in town I swear
---
Mad Fries never disappoints
---
---
---
---
The food be fireworks in my mouth I can't stop eating there food
---
---
---
---
---
---
---
---
---
Frequently asked questions
Can I order Mad Chicken delivery in Milwaukee with Uber Eats?
Yes. Mad Chicken delivery is available on Uber Eats in Milwaukee.
Is Mad Chicken delivery available near me?
Mad Chicken delivery might not be available everywhere in Milwaukee, so enter your address to see if it's available near you.
How do I order Mad Chicken delivery online in Milwaukee?
There are 2 ways to place an order on Uber Eats: on the app or online using the Uber Eats website. After you've looked over the Mad Chicken menu, simply choose the items you'd like to order and add them to your cart. Next, you'll be able to review, place, and track your order.
What's the best thing to order for Mad Chicken delivery in Milwaukee?
What's best at Mad Chicken is totally up to you and your personal preference. If you're in need of some inspiration, consider trying one of the items featured in "Picked for you."
How do I get $0 Delivery Fee at Mad Chicken in Milwaukee?
The Delivery Fees may vary depending on a number of factors, like your location. Enter your Milwaukee address to see the current Delivery Fee. You can also explore the Uber Eats membership and subscription options available in your area to see if you can save money on Mad Chicken delivery with $0 Delivery Fee on select orders.