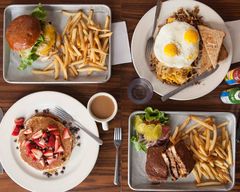 Location and hours
1455 Market St, San Francisco, Ca 94103, Usa, 3C, SF, CA 94102
Sunday
Closed
Monday - Friday
09:00 AM - 02:00 PM
Menu (Kitchen)
08:46 AM - 12:00 AM
Donut Menu
09:00 AM - 02:00 PM
Pizza Menu
Saturday
Closed
Delivery • Pickup
Opens at 8:46 AM
Picked for you

Scrambled style egg and choice of cheese on your choice of bread or bagel.

Ice Latte with Vanilla Syrup, Caramel Sauce and shots of espresso

Choice of spicy andouille sausage, chicken apple sausage, pork chorizo, bacon, or tofu filled with pinto beans, scrambled eggs, melted Cheddar and Jack cheese, sour cream, and pico de gallo. Served with hashbrowns, breakfast potatoes, or spring mix salad.

Ham, Egg, and Cheese Sandwich

Scrambled style egg, choice of cheese, and slices of ham.

Choice of meat filled with pinto beans, scrambled eggs, melted Cheddar and Jack cheese, sour cream, and pico de gallo & crispy tator tots. Served with hashbrowns, breakfast potatoes, or spring mix salad.

Hash Plates

Seasoned hashbrown topped with chopped bacon, shredded cheese, and a dollop of sour cream. Two eggs any style and toast.

2 eggs any style, fresh hashbrowns, and 2 pcs of toast.

Hashbrowns scrambled with Angus ground beef, grilled onions, and melted American cheese topped with two eggs and toast.

Pancakes & French Toast

3 slices of French toast dipped in batter of fresh eggs, milk, cinnamon, and vanilla.

Berries Banana French Toast

French toast topped with fresh berries, fresh bananas, powder sugar.

Berry Special French Toast

French toast topped with fresh seasonal berries and vanilla whip cream.

Scrambles

Spinach, mushrooms, bell peppers, tomatoes, and Cheddar and Jack cheese. Served with choice of spring mix salad, breakfast potatoes, or hashbrowns. Choice of toast.

Diced ham, mushroom, bell peppers, onions, and Cheddar and Jack cheese. Topped with 1 slice of bacon. Served with choice of spring mix salad, breakfast potatoes, or hashbrowns. Choice of toast.

Chopped bacon, bell peppers, mushrooms, onions, spinach, and Cheddar and Jack cheese. Served with choice of spring mix salad, breakfast potatoes, or hashbrowns. Choice of toast.

Chicken apple sausage, mushrooms, onions, bell peppers, and Cheddar and Jack cheese. Served with choice of spring mix salad, breakfast potatoes, or hashbrowns. Choice of toast.

Scrambled eggs with diced andouille sausage, bell peppers, onions, and pico de gallo. Served with choice of spring mix salad, breakfast potatoes, or hashbrowns. Choice of toast.

Pork chorizo scrambled with bell peppers, onions, dallop of sour cream, and slices of avocado. Served with choice of spring mix salad, breakfast potatoes, or hashbrowns. Choice of toast.

Breakfast Sandwiches

Chipotle Bacon Breakie Sammie

Bacon, Egg, Pepperjack on Kaiser Bun with spicy chipotle mayo.

Applewood smoked bacon and eggs, Cheddar cheese.

Smoked ham, Swiss cheese, and egg.

Simple Breakfast Sandwiches

Scrambled style egg on choice of bread or bagel.

Choice of cheese and choice of bread or bagel.

Ham, Egg, and Cheese Sandwich

Scrambled style egg, choice of cheese, and slices of ham.

Scrambled style egg and choice of cheese on your choice of bread or bagel.

Grill Ham and Cheese Sandwich

Choice of cheese on choice of bread or bagel.

Buttered grilled cheese. Choice of American, Cheddar, or pepper Jack.

Drinks & Caffeine Bar

Espresso & milk on top, all served over ice, the classic milk & Espresso drink

Ice Latte with Vanilla Syrup, Caramel Sauce and shots of espresso

Double Espresso with Ghiradelli Ground Chocolate, Steamed Milk. A favorite!

Classic refreshing iced drink prepared with fresh iced tea & our fresh lemonade. A favorite!

Earl Grey Tea (Rishi Teas)

8 oz traditional cappucino.

Please note how many sugars for coffee and if you need half and half or milk added.

Please note how many sugars for coffee and if you need half and half or milk added.

Side Orders

Honeydew, Cantaloupe, Berries, Apples.

Traditional Burgers

Hamburger with lettuce, tomatoes and mayo. Served on a potato bun with your choice of side

May, lettuce, tomatoes and American cheese. Served on a potato bun with your choice of side.

Mayo, lettuce, tomatoes and American Cheese. Served on a potato bun with your choice of side.

Cheeseburger with American Cheese, lettuce, tomatoes and mayo. Served on a potato bun with your choice of side.

Plain Kitchen Chicken Burger

Mayo, lettuce and tomatoes. Served on a potato bun with your choice of side.

Burger Favorites

Cheeseburger with American Cheese, lettuce, tomato, pickles, onions, housemade 1000 island sauce. Fries or Salad included.

Cheese burger on sliced sourdough bread, Muenster cheese, grilled onions and house made Thousand Island sauce. Served on a potato bun with your choice of side.

Cheeseburger with grilled mushrooms, applewood smoked bacon, cheddar cheese, lettuce, tomatoes and mayo. Served on a potato bun with your choice of side.

Double hamburger patty, cheddar cheese, pepper jack cheese, applewood bacon, lettuce, tomatoes and house made thousand island sauce. Served on a potato bun with your choice of side.

Grilled Chicken breast, muenster cheese, house pesto sauce, lettuce, tomatoes & mayo, served on a potato bum with your choice of side

Cheeseburger with pepper Jack cheese, grilled onions, chipotle sauce, lettuce and tomatoes potato, served on a potato bun with your choice of side

Cheeseburger with bacon, cheddar cheese, fried egg, mixed greens & our sweet & spicy happy dance sauce, (mayo, teriyaki & chili). Served on a potato bum

Instan Grati-vacation burger

Cheeseburger with Grilled onions, mushrooms, melted muenster cheese & our sweet & spicy happy dance sauce, (mayo, teriyaki & chili) served on a potato bum with your choice of side

Cheeseburger with apple wood smoke bacon, smoky BBQ sauce, grilled onions & cheddar cheese. Served on a potato bum with your choice of side

Cheeseburger with Apple-wood smoke bacon, avocado, lettuce, tomatoes, cheddar cheese & mayo, served on a potato bum with your choice of side

Cheeseburger with Pepper jack cheese, spicy chipotle mayo, jalapeño, lettuce & tomatoes, served on a potato bum with your choice of side

Cheese Burger with cheese, housemade thousand island sauce, lettuce, tomatoes & grille pastrami, served on a potato bun with your choice of side

Chicken Burgers

Grilled Chicken breast, muenster cheese, house pesto sauce, lettuce, tomatoes & mayo, served on a potato bum with your choice of side

Classic Breakfast Plates

Choice of applewood smoked bacon (3) or sausage (3). Two eggs any style and toast. Choice of hashbrowns or breakfast potatoes.

3 slices of French toast dipped in cinnamon vanilla egg batter. Served with two eggs any style and 2 slices of bacon.

Choice of (3) bacon or (3) chicken apple sausage, two eggs any style, and 2 slices of toast. No substitutions.

Breakfast Burrito

Choice of spicy andouille sausage, chicken apple sausage, pork chorizo, bacon, or tofu filled with pinto beans, scrambled eggs, melted Cheddar and Jack cheese, sour cream, and pico de gallo. Served with hashbrowns, breakfast potatoes, or spring mix salad.

Choice of meat filled with pinto beans, scrambled eggs, melted Cheddar and Jack cheese, sour cream, and pico de gallo & crispy tator tots. Served with hashbrowns, breakfast potatoes, or spring mix salad.

Donuts (available weekdays only)

Classic Raised Glaze - Donut

Fluffy, brown, cinnamon rolls made from yeast donut dough topped with classic glaze.

Braided Yeast Donut twisted with cinnamon sugar and glaze icing

Fried Apple Fritter with chunks of cinnamon apple inside and glaze icing. A Favorite!

Strawberry Shortcake Donut

Glaze Donut Bun filled with fresh strawberries, strawberry glaze, fresh whip cream topped with classic glaze. Limited Quantities. Warning: Sells out very fast.

Long John Bars Custard Filled- Donut

Yeast raised donut in the shape of a bar.

We will pick out 12 classic round donuts. Assorted raised, cake and old fashion donuts. Popular donuts will be chosen.

Neopolitan Pizza- 12 Inch (Mon- Fri only)

Mozzarella Cheese, Red Sauce

Mozzarella Cheese, Red Sauce, Pepperoni

Mozzarella Cheese, Pepperoni, Black Olives

Pepperoni, Mozzarella, Fresh Basil, Red Sauce

Ham, Fresh Pineapple, Mozzarella, Red Sauce
5-Star Reviews
Hear from people who love this spot
Great breakfast food. One of my favorites in the city
---
Subhash Chandra Mahesh K.
7 months ago
Great neighborhood spot with friendly service, consistently delicious, and food packaged with care for delivery. One of my favorite spots for breakfast and lunch on-the-go!
---
Always consistent and fresh and delicious. I could eat breakfast every meal ❤️😂
Frequently asked questions
Can I order Little Griddle delivery in San Francisco with Uber Eats?
Yes. Little Griddle delivery is available on Uber Eats in San Francisco.
Is Little Griddle delivery available near me?
Little Griddle delivery might not be available everywhere in San Francisco, so enter your address to see if it's available near you.
How do I order Little Griddle delivery online in San Francisco?
There are 2 ways to place an order on Uber Eats: on the app or online using the Uber Eats website. After you've looked over the Little Griddle menu, simply choose the items you'd like to order and add them to your cart. Next, you'll be able to review, place, and track your order.
What's the best thing to order for Little Griddle delivery in San Francisco?
What's best at Little Griddle is totally up to you and your personal preference. If you're in need of some inspiration, consider trying one of the items featured in "Picked for you."
How do I get $0 Delivery Fee at Little Griddle in San Francisco?
The Delivery Fees may vary depending on a number of factors, like your location. Enter your San Francisco address to see the current Delivery Fee. You can also explore the Uber Eats membership and subscription options available in your area to see if you can save money on Little Griddle delivery with $0 Delivery Fee on select orders.