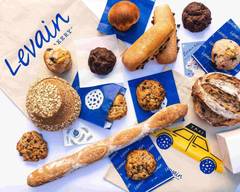 Location and hours
2167 Frederick Douglass Boulevard, New York, NY 10026
Every Day
8:00 AM - 7:30 PM
Levain Bakery - Harlem
2167 Frederick Douglass Boulevard, New York, NY 10026
Delivery • Pickup
Opens at 8:00 AM
Picked for you

Caramel Coconut Chocolate Chip

Two Chip Chocolate Chip Cookie

Dark Chocolate Chocolate Chip Cookie

Dark Chocolate Peanut Butter Chip Cookie

Seasonal Flavor

Cookies

Two Chip Chocolate Chip Cookie

100% (37)

Chocolate Chip Walnut Cookie

96% (33)

Dark Chocolate Peanut Butter Chip Cookie

100% (21)

Dark Chocolate Chocolate Chip Cookie

100% (19)

Vegan & GF Chocolate Chip Walnut Cookie

Pastries

Sour Cream Coffee Cake Slice

100% (5)

Banana Chocolate Chip Slice

100% (8)

Beverages
5-Star Reviews
Hear from people who love this spot
These cookies are amazing! Every order they never fail !
---
The cakes are delicious and very moist.
---
Walnut cookies is really good. I ordered two of them as well as the two chocolate chip. They didn't give me one of my cookies but besides that I enjoyed.
---
---
…cause I love big a$$ chocolate chip cookies 🥹
---
---
The best thing to have delivered to you at 6pm.
---
The cookies are so fresh big and good
---