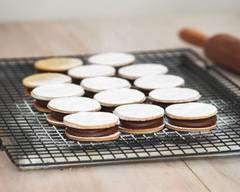 Location and hours
5610 N Interstate Hwy 35, Austin, TX 78751
Sunday
Closed
Monday
10:00 AM - 3:00 PM
Tuesday - Saturday
8:00 AM - 4:00 PM
Latin Bakery Austin (5610 N Interstate Hwy 35)
5610 N Interstate Hwy 35, Austin, TX 78751
Delivery • Pickup
Opens at 10:00 AM
Banana Nutella Muffins (Box of 6)

Single Tres Leches Cup (8 oz)

GF Chocolate Chip Banana Muffins

Triple Avocado & Eggs Sandwich

Turkey & Cheese Croissant

Classic Peruvian Butifarra Sandwich

Chicken Salad & Pecan Sandwich

GF Alfajor Box (Box of 12)

Desserts

Single Tres Leches Cup (8 oz)

100% (3)

Pair of Large 2" Cinnamon Alfajores

Mixed Alfajor (Box of 12)

100% (3)

Single Red Velvet Cake Parfait (8 oz)

Pumpkin Spice Bread Mini Bundt

Banana Nutella Muffin x 2

Cakes

Sandwiches

Traditional Latin American Sandwiches made from scratch

Cupcakes & Muffins

Savory

Gluten Free & Dairy Free

A selection of GF, dairy free and low sugar options with the same great flavor!
5-Star Reviews
Hear from people who love this spot
Excellent Turkey sandwich!
---
The banana muffins with Nutella were perfect!
---