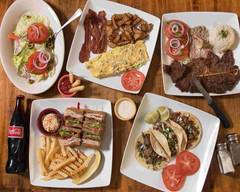 Location and hours
1551 West Passyunk Avenue, Philadelphia, PA 19145
Sunday
11:00 AM - 9:30 PM
Menu
11:00 AM - 3:00 PM
Brunch
Monday
Closed
Tuesday - Thursday
3:00 PM - 9:30 PM
Menu
Friday
3:00 PM - 10:00 PM
Menu
Saturday
11:00 AM - 10:00 PM
Menu
11:00 AM - 3:00 PM
Brunch
Delivery
15–30 min • $0.99
Picked for you

Braised beef roasted in a three-chile adobo sauce, served with side of broth.

5 chiles marinated pork, grilled pineapple, onion, cilantro.

5 chiles, marinated pork, grilled pineapple, and cilantro with rice, Frito beans, queso, pico de gallo.

Short rib spicy guacamole with rice, Frito beans, queso, pico de gallo.

Al Comal

Corn tortilla, epazote, chihuahua and oaxaca cheese.

Tortilla chips, Frito beans Chihuahua cheese, avocado cream, pickled jalapeño.

Black beans, avocado Oaxaca cheese, tomato, crema. Add chorizo, tinga, and nopales for an additional charge.

roasted mushrooms, Oaxaca cheese, poblano peppers, onions

Botanas

Elote

Corn on the cob, cotija cheese, mayo, chile pepper.

tempura fried shrimp with smoked chipotle sauce

corn, queso fresco, mayo, fresh lime juice, epazote, chile

breaded chicken, avocado, tomato, queso fresco, dijon, mayo, red onion, frito beans, pickled jalapeños, pickled carrots, served on a Mexican roll

Tortilla Soup

tomato, avocado, queso fresco, sour cream, epazote, tortilla chips

Cauliflower Salad (vegan)

roasted cauliflower, avocado, toasted peanuts, red onion, serrano lime juice, ancho chile powder, cilantro, mint, peanut dressing

raw salted cactus, avocado
pico de gallo, queso fresco
radish, cilantro, tortilla chips


Burritos

Short rib spicy guacamole with rice, Frito beans, queso, pico de gallo.

5 chiles, marinated pork, grilled pineapple, and cilantro with rice, Frito beans, queso, pico de gallo.

Braised pork, achiote, and citrus habanero escabeche with rice, Frito beans, queso, pico de gallo.

Tacos

Entradas

Del Mar

Sides

Tostadas (2pcs)
5-Star Reviews
Hear from people who love this spot
---
---
La Llorana Cafe has delivered some of the best Mexican AND delivery food we've ever had and we can't get enough!
---
The food is amazing and just so flavorful! I can't get enough of their ceviche!
---
I love this restaurant the staff is very kind and very helpful always nice when I go in there I started going there when I was pregnant and have been going ever since I'll be a forever customer! The food is amazing
---
Food is good and well packed.
---
---
everything was amazing and packed with love as well ❤️
---
---