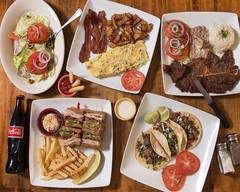 Location and hours
7902 Pines Blvd, Fort Lauderdale, FL 33324
Sunday
08:30 AM - 07:30 PM
Monday - Thursday
08:30 AM - 08:30 PM
Friday - Saturday
08:30 AM - 09:30 PM
La Hormiga de Oro Restaurante
4.7 (190 ratings) • Latin American • $
  •  
Read 5-Star Reviews
  •  
More info
7902 Pines Blvd, Fort Lauderdale, FL 33324
Tap for hours, address, and more
Enter your address above to see fees, and delivery + pickup estimates.
This spot is one of the 3 most popular Nicaraguan takeout spots in all of Pembroke Pines. If you're a fan of bol takeout like the rest of your city, you'll be happy to know it's offered at La Hormiga de Oro Restaurante. • $ •
Latin American
 • 
Nicaraguan
 • 
Family Meals
Picked for you

Nacatamal/Nicaraguan Stye Tamale TO GO

Carne Asada La Hormiga-CHARBROILED STEAK DINNER

Breakfast All Day

Nacatamal servido con gallopinto

Nicaraguan tamale Served With Mixed Rice and choice of corn tortilla or cuban toast

2 Eggs,Mixed Rice, Pork Chunks,Pork Skin, ground pork sausage, Fried Cheese, Cream

Desayuno Americano Con Pancakes

2 Eggs, Ham, Bacon, Sausage,Fries, Hashbrown & Pancakes

Lunch & Dinner Specials

Carne en salsa Jalpeña Lunes

Steak Tips With White Jalapeño Sauce (Monday)

Appetizers

Baho-SABADO (SATURDAY 11-5)

Maduro relleno ( frijol molido, crema & queso)

Tostones con queso & repollo

Tajadas con queso & repollo

Parillada para 2 con sodas(carne asada,cerdoasado,pechuga asada,costillas asadas,chorizo & camarones)

Meat Grilled Platter For 2 With 2 Sodas
Beef,pork,chicken,ribs, sausage & shrimp

Yuca, Pork Skin & Cabbage

Maduros con queso & repollo

Sweet Plantain, Fried Cheese & Cabbage

Antojito casero (vigoron,chorizo & queso frito)

Yuca With Pork Skin, Ground Pork & Fried Cheese

Chicharron de pollo con tajadas caseras

Fried Chicken With Home Fried Plantains

Nica Platter (tacos,enchiladas,tajadas,queso frito,crema,frijol molido & repollo)

Enchilada,tacos,fried cheese,plantain chips,cream,mashed beans & cabbage

Dinners

Carne Asada La Hormiga-CHARBROILED STEAK DINNER

Bistec de res encebollado

Bistec Criollo servido con frijoles molidos, Maduros & deditos de Queso

Beef steak In creole Sauce served with mashed beans, sweet plantains & fried cheese

Pork Ribs Served With Fried Cheese & Plantain Chips

Grilled Chicken Breast With Sauté Onions

Seafood

Cocketeles & Ceviches

Ensaladas / Salads

House Chicken Caesar Salad

Mojito Salad (skirt steak & Bacon)

Solamente Para Niños / Kids Menu

Paquetes Familiares / Family Meals

#1 FOR 4 PEOPLE - with Soda

#2 FOR 8 PEOPLE - with Soda

Refrescos Naturales / Natural Refreshments

Sodas

Fress Kolita (similar to milca) can

Hot Drinks

Side Orders

Carne Asada (SOLO ORDEN) Steak ORDER (4strips)

Mercado / Grocery

Nacatamal/Nicaraguan Stye Tamale TO GO

Ground Marinated Pork (Uncooked)

Rosquias - Baked Corn Biscuits

Güirila/Sweet corn Tortilla

Vanilla Cake (No Icing No Filling)

Sopas / Soups

Sopa de Gallina con albondigas / Hen Soup with corn dumplings

Sopa de Mondongo / Beef Tripe Soup / Domingos - ONLY SUNDAYS

Helados Nica (nicaraguan Popsicles)

Nancite (nance/yellow cherry) bolis

Maracuya (passion fruit) bolis

Tamarindo (Tamarind) bolis
5-Star Reviews
Hear from people who love this spot
---
Love their Carne Asada. They cook it to my likings.
---
They are very friendly, fresh food very tasty
---
food is always fresh and their service is great been coming here for years.
---
Subhash Chandra Mahesh K.
5 months ago
---
---
great portions, great tasting food!
---
---
best nicaraguan restaurant
---
Good food, really hits home for me!
---
---
food is fresh and consistent. . . . .Comfort food.
---
---
Best Nicaraguan food in town
---
The food was good excellent fresh and hot
---
the food is always so so so good and always fresh and still hot whenever it reaches me . definitely my favorite fritanga restaurant