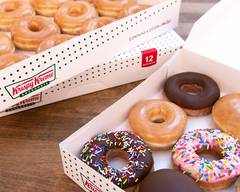 Krispy Kreme (Curtner Ave & Monterey Hwy)
4.8
(48)
  •  
View delivery time and booking fee.
Location and hours
Every Day
06:15 AM - 09:45 PM
You're looking at one of the 3 most popular places for Bakery takeout in all of San Jose. Of the 10 things on the menu at this evening go-to, the Pumpkin Lovers Dozen is one of the most ordered and the Classic Assorted Dozen and the Original Glazed® Dozen are two of the items most commonly ordered together. • ₩ •
Breakfast and Brunch
 • 
American
 • 
Bakery
 • 
Desserts
121 Curtner Ave, San Jose, CA 95125 • More
Fast & reliable
 • 
Sustainable packaging
---
Doughnuts

A dozen of our iconic Original Glazed®doughnuts

An assortment of our classic doughnuts, selected just for you.

16 Count Original Glazed® Minis

16 of the iconic Original Glazed® Doughnuts, now in mini form!