Katsu Burger (Ballard) Menu and Delivery in Seattle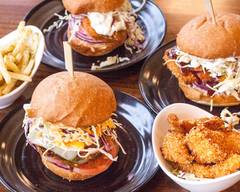 Location and hours
2034 Nw 56th St, Seattle, WA 98107
Sunday
12:00 PM - 07:30 PM
Monday - Thursday
03:00 PM - 08:30 PM
Friday - Saturday
12:00 PM - 08:30 PM
Katsu Burger (Ballard)
4.9 (158 ratings) • American • $
  •  
Read 5-Star Reviews
  •  
More info
2034 Nw 56th St, Seattle, WA 98107
Tap for hours, address, and more
Enter your address above to see fees, and delivery + pickup estimates.
If you try to do as the locals do, consider ordering from here because it's particularly popular among Seattle locals. Wondering what's popular here? The Nori Fries is one of the things users order the most and the 2 Roll Special and the Banzai Bites are two of the items most commonly ordered together at this evening go-to. • $ •
American
 • 
Sandwiches
 • 
Sushi
 • 
Burgers
Picked for you

Burgers

Mega Burgers

Special Rolls

Bento Boxes

Maki

Appetizers

Bowls

Fries

Drinks
5-Star Reviews
Hear from people who love this spot
Consistently fresh, tasty, and delightfully delicious.
---
Delicious and great for delivery
---
It's incredibly amazing delicious and tasty. Reminds me of Japan
---
Any time I'm wondering what to eat, Katsu Burger's Tofu Katsu burger and unique fries come to mind. Great stuff!
---
Katsu burger is such a delicious treat. And it's not just burgers. They have sushi as well, so if you have a partner who isn't as crazy for burgers as you are, they can have some raw fish! What's not to love?
---
Their burgers are so delicious ;-; ♡
---
Katsu burger is amazing! They always get my order correct and it travels well. No soggy cold burgers. I love their curry fries and Godzilla burger with tofu!!!
---
Amazing burgers! Super fresh and unique flavors! Delicious shakes!
---
Awesome delivery on this cold windy day. Thank you
---
---