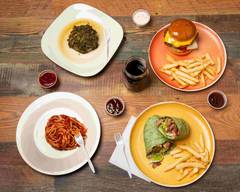 Location and hours
120 West 87th Street, Chicago, IL 60620
Sunday
11:00 AM - 9:00 PM
Menu
12:00 PM - 6:00 PM
Menu
Monday - Saturday
11:00 AM - 9:00 PM
Menu
Just Turkey Grill
120 West 87th Street, Chicago, IL 60620
Delivery
Too far to deliver
Pickup
20–30 min • 26.6 mi
Picked for you

Turkey Lasagna with Spinach

BBQ Turkey

Turkey Burgers

The Original Cheese Burger

Sandwiches and Wraps

Chicago Style Turkey Polish

Pasta

Turkey Lasagna with Spinach

Succulent Turkey Spaghetti

Tacos and Nachos

Salads

Sides

Drinks

Turkey Tenders
5-Star Reviews
Hear from people who love this spot
---
the food is tasty and cooked fresh
---
Turkey Tips are the best, and they've upgraded the quality and quantity over the past few months. They even have their own logo branded bags now. Keep it up, JT!
---
---
Food always fresh and received hot
---
My first time eating it andit was delicious I will order it again
---
Just delicious. Can't go wrong with turkeyfied foods.
---
---
More healthier options and the food is delicious. I went to the Restaurant one time for pick up and the store is exceptionally clean.
---
Food was seasoned and packaged perfectly!
---
It's just so good and fresh every time.
---
Food is good and consistent
---
The food is delicious and I love the different options
---
Food always fresh and delicious
---
Food was delicious. I didn't feel sluggish or too full after eating.
---
The Turkey Lasagna with Spinach is delicious! Would love if Garlic Bread was offered.
---
So delicious and worth every penny
---
It's fresh place to hit at the meat is good and tender!!!
---
I just love the food and enjoy it and so does my family
---
"Food was ""fresh"" and very good!"
---
---
---
---
I love their turkey tips. they are always so tender and they complete my special instructions.
---
I love the jerk turkey tips
---
I really love their Turkey Tips
---
They food actually is thee best
---
---
---
---
---
---
---
There food is really good
---
The food is excellent and always fast!
---
---