Just Love Coffee Cafe - Georgetown Menu and Delivery in Georgetown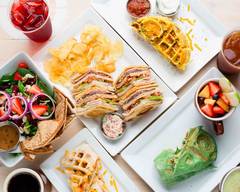 Location and hours
1013 W University Ave, 195, Georgetown, TX 78628
Sunday
07:30 AM - 09:00 PM
Monday - Saturday
06:00 AM - 09:00 PM
Just Love Coffee Cafe - Georgetown
4.7 (100 ratings) • Breakfast and Brunch • $
  •  
Read 5-Star Reviews
  •  
More info
1013 W University Ave, 195, Georgetown, TX 78628
Tap for hours, address, and more
Enter your address above to see fees, and delivery + pickup estimates.
Wish you could ask someone what's best here? The Not So Plain Jane is one of the the most popular items of the 80 things on the menu and the Breakfast Tacos and the Latte Coffee are two of the items most commonly ordered together at this morning go-to. • $ •
Breakfast & Brunch
 • 
Desserts
 • 
Pastry
Picked for you

Breakfast Burrito

Signature Lattes

Coffees & Teas

Hearty Favorites

wOmelette

Breakfast Burrito

Sausage, Egg and Cheese Biscuit

Bacon Tater

Breakfast Sliders

Artisan Waffles

Berry Berry Bo Berry

vegetarian and gluten free

Not So Plain Jane

Plain Jane

vegetarian and gluten free

Sandwiches, Wraps, and Calzones

Roast Beef and Cheddar Melt

Classic Grilled Cheese

Quinoa Veggie Wrap

Grilled Italian Caprese

Soups, Salads, and Veggies

Spinach Strawberry Salad

Quinoa Black Bean Salad

Hummus and Veggies

Sweet Treats

Nanna's Cinnamon Roll

Stuffed Nutella

vegetarian and gluten free

Christie's Cookie Waffle

Traditional Espresso

Sides

Fresh Cup of Fruit

Tater Cake

Beverages

Fountain Drinks (Maine Root Products)
5-Star Reviews
Hear from people who love this spot
Good Food nice presentation packed well … nice to use local businesses.
---
Subhash Chandra Mahesh K.
4 months ago
They make the best sandwich I've ever had
---
Everything we've tasted has been excellent. The variety of foods and beverages (hot/cold) are perfect for breakfast and lunch orders. Even breakfast for dinner on occasion. Love this local business and will continue to support it.
---
---
They have amazing waffles and their unique menu selection for their breakfast items keep me coming back for more!
---
Amazing food, breakfast is our favorite. It is always prepared nicely & we never had issues with the food
---
Great food. No stress delivery.
---
Their food is amazing, and I'm obsessed with hot chocolate!!
---
Delicious food and delicious coffee!