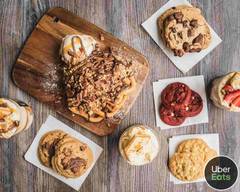 Location and hours
1732 East 79th Street, Chicago, IL 60649
Sunday
11:00 AM - 7:00 PM
Monday
Closed
Tuesday - Thursday
11:00 AM - 6:30 PM
Friday - Saturday
11:00 AM - 7:00 PM
Jars By Jasiman Dessert Bar
1732 East 79th Street, Chicago, IL 60649
3 Pack Pudding Jars (17 oz)

Big a Reese's Peanut Butter Cup Cookie

Funnel Cake w/ Powdered Sugar

Pudding Jars

3 Pack Pudding Jars (17 oz)

96% (54)

Pudding Pans

Jasimans Fresh Baked Cookies

White Chocolate Macadamia Nut Cookies

92% (40)

Big a Reese's Peanut Butter Cup Cookie

89% (49)

Brownies

Drinks

Jasiman's Funnel Cakes

Jasimans Cobblers

Jasimans Ice Cream

Jasimans Milkshakes
5-Star Reviews
Hear from people who love this spot
---
Everything I try here is delicious
---
I never had a Reese cup cookie before but now can't stop ordering I think I bought her out one time 😂😂turtle brownie is good as well
---
---
Wonderful baked cookies and the lemonade is delicious. chef's kiss
---
---
LAWDDDD!!! That Pecan Caramel pudding was like a little piece of heaven in a 🫙 🙏🏽🤤 I'm in love😍😍❤️
---
the banana pudding was so good and the banana pudding shake
---
I truly love you guys everything always good and fresh
---
my favorite desserts, always fresh !
---
Always fresh and delicious
---
Best brownies on the south side
---
Absolutely love this place!
---
---
Delicious hands down! Get the 3 pack of pudding instead of just 1 single serving, you will not regret it! Portion sizes are top tier!
---
peanut butter cookies are chef's kiss
---
I really enjoyed how soft and delicious the cookies were! The lemonade had such a sweet and refreshing flavor and I enjoyed it. Will definitely order again!
---
---
---
Very delectable oreo and banana jar. Was to die for.