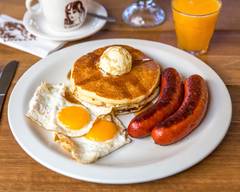 Jaho Coffee Roaster & Wine Bar
4.7
(28)
  •  
View delivery time and booking fee.
Location and hours
Every Day
07:00 AM - 10:00 PM
Wish you could ask someone what's the best thing to order here? The caramel macchiato is one of the most ordered items of the 143 things on the menu and the breakfast sandwich and the signature latte are two of the items most commonly ordered together at this morning go-to. • ¢ •
Coffee and Tea
 • 
American
 • 
Breakfast and Brunch
116 Huntington Avenue, Boston, MA 02116 • More
---
Picked for you

Hanoi Vietnamese Iced Coffee

Cocktails To-Go

Your choice of our delicious bubble tea blended with two types of rum. (Our standard combination is Coconut & Rum)

Jaho's smooth cold brew blend with a shot of Bailey's Irish Cream.

Our fresh squeezed orange juice with Prosecco!

Our freshly brewed coffee or cold brew blended with Kilbeggan's Irish Whiskey, brown sugar and topped with whipped cream.

Salted Caramel Macchiatini

Vietnamese Coffee Martini

Coffee

Iced Coffee Spring Blossom Cold Brew w/Cold Foam

Hanoi Vietnamese Iced Coffee

Espresso

Pistachio, cardamom, rose & saffron with our espresso and topped with cold foam!

Tea & Tea Lattes

Bubble Tea

Zodiac Tea

Plum Cinnamon Tisane Caffeine Free

Frosticcinos/Frozen Drinks

Chocolate, coffee and chocolate chips.

Frozen Hot Chocolate Frosticcino

Creamy, rich blended red velvet.

Mint Chocolate Chip Frosticcino

Rich chocolate, mint, chocolate chips and coffee.

Cookies-n-Cream Frosticcino

Delicious mix of cookies and cream blended together.

Choco Peanut Butter Frosticcino

Chocolate, peanut butter blended together.

Smoothies

Strawberry Banana Smoothie

Other Beverages

Cookies-n-Cream Hot Chocolate

Breakfast

Sandwiches

Shrooms-n-Cheese Sandwich

Pastries

Giant Cookie - Reese's Peanut Butter

Giant Cookie - Chocolate Chip

Brownie - Chocolate Peanut Butter

Coconut Macaroon Gluten Free

Coconut Macaroon - Chocolate Dipped Gluten Free

Desserts

Banana Toffee Bourbon Cake

Yogurt Cup Strawberry Vanilla

Yogurt Cup Blueberry Power Greek Yogurt

Coffee Beans

Single origin from the renowned Daterra farm in Brazil's Minas Gerais.

Our seasonal selection of Swiss Water Decaffeinated coffee.

Our classic dark roast of Indonesian and Brazil beans.

Scarlet Espresso 12oz Bag

Our signature espresso blend of Kenya Peaberry and Brazil Daterra.

El Injertal, one of our favorite producers in Guatemala.

A rich, bold coffee, perfect on it's own or with milk/cream.

One of our favorite origins, this Ethiopia is light & fruity.

Our signature blend inspired by our home of Salem. Indonesian, Brazil and Ethiopia coffees.

A darker roast of our favorite South American coffees.

Roaster's Choice of 5lb Freshly Roasted Coffee.