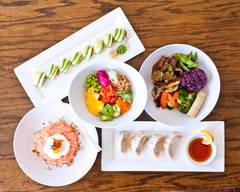 Island Sushi & Grill
View delivery time and booking fee.
Location and hours
Sunday - Thursday
11:00 AM - 08:30 PM
Friday - Saturday
11:00 AM - 09:30 PM
(1287) on Yelp
•
Read reviews
This place is among the hottest spots on Uber Eats in all of Las Vegas. If you try to do as the locals do, consider ordering from here because it's particularly popular among Las Vegas locals. • ₩₩ •
Hawaiian
 • 
Japanese
 • 
Sushi
 • 
Breakfast and Brunch
 • 
Seafood
9400 South Eastern Avenue, Suite 103, Las Vegas, NV 89123 • More
Well packed
 • 
Sustainable packaging
---
BEVERAGES (NON-ALC)

POKE

SPICY AHI BOWL (CUBED OR GROUND)*

SHOYU AHI AVOCADO POKE BOWL*

Shoyu ahi w/ sesame seeds, onions, & seaweed salad

Spicy aioli, ponzu sauce & negi

SUSHI SIDE

BAKERY

CHOCOLATE CHIP BANANA BREAD

GRILL

SIDES/EXTRAS
We ordered to-go on a Sunday around 11:30am. We only waited around ~15 minutes for our orders. Aside from the usual menu, they also have Daily Specials for the week and Sunday Brunch menu. The staff are kind and nice as always. What we ordered: Malasadas - love this! So soft and fluffy!!! We always...  
---
I decided to try this place after reading the reviews on yelp and Its been a struggle trying to figure out if I like this place or not. I've ordered food here 3 times now and here is the review from each visit: First time: Came to dine in with my wife, the nice hostess...  
---
Wow!!!! Your food quality and quantity has really gone down. I was a regular before the pandemic, but I will be finding a new sushi restaurant. This picture is how it looked when I opened it once I got home.
---
8/7/21 The Hawaiian food was delicious. Ordered lau lau, mochiko chicken, & ahi poke bowl. My teri beef sandwich was one of the best I've had. We must have come on an off day because the fish was much better than last time. So based on today's visit, I definitely recommend the Hawaiian dishes. Glad...  
---
No more AYCE sushi, so be aware. Plate lunches are still good. Check menu before heading in. Also, poi isn't sold by the bags anymore..already mixed. Disappointed when I ordered 1lb of poi and it was portioned into 1/4lb containers and really watery.
---
We came her on one of Saturday for lunch. It was little crowded, but we got seated really fast. We don't have to wait for food that long. They offer Nigiri and Roll half off, so it's not bad at all. I am not recommending the seared cajun tuna because it's very dry and not...  
See more on Yelp