Il Casaro Pizzeria & Mozzarella Bar (Church St) Menu and Delivery in San Francisco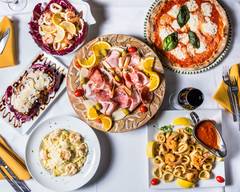 Location and hours
235 Church Street, San Francisco, CA 94114
Sunday - Thursday
04:00 PM - 10:00 PM
Menu
Friday
04:00 PM - 07:00 PM
Menu
08:00 PM - 11:00 PM
Menu
Saturday
08:00 PM - 11:00 PM
Menu
Il Casaro Pizzeria & Mozzarella Bar (Church St)
4.6 (65 ratings) • Pizza • $
  •  
Read 5-Star Reviews
  •  
More info
235 Church Street, San Francisco, CA 94114
Tap for hours, address, and more
Enter your address above to see fees, and delivery + pickup estimates.
If you like to do as the locals do, consider ordering from Il Casaro Pizzeria & Mozzarella Bar, because it's particularly popular among San Francisco locals. The Diavola Pizza is one of the most popular things on the menu at this evening go-to. • $ •
Pizza
 • 
Italian
 • 
Pasta
 • 
Vegetarian Friendly
 • 
Desserts
 • 
Coffee and Tea
Picked for you

Bevande

Bottled Sparkling Water 750ml

San pelligrino Aranciata 330ml can

San pelligrino Limonata 330ml can

La Nostra Gazzosa Lemon 275mL btl

La Nostra Chinotto 275mL btl

Dolci & Caffe

Antipasti

Piatto di Salumi e formaggio

Vegetables

Mozzarella Bar

Pasta & Lasagna

Ravioli Spinaci and Ricotta

Pizza

Broccoli and Salsiccia Pizza
5-Star Reviews
Hear from people who love this spot
---
---
Their margarita pizza is the BEST!