Hyde Park Bar & Grill (Duval) Menu and Delivery in Austin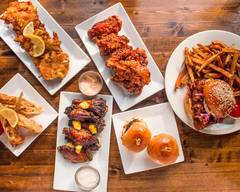 Location and hours
4206 Duval St, Austin, TX 78751
Every Day
11:00 AM - 09:45 PM
Hyde Park Bar & Grill (Duval)
4.7 (179 ratings) • Burgers • $
  •  
Read 5-Star Reviews
  •  
More info
4206 Duval St, Austin, TX 78751
Tap for hours, address, and more
Enter your address above to see fees, and delivery + pickup estimates.
Picked for you

Starters

Hyde Park Fries

Beer Battered Green Beans

Avocado Fries

Entrees

Sriracha Shrimp with Pesto Linguine

Cashew Alfredo Spaghetti With Lentil Balls

Burgers

HP Veggie Burger

Sandwiches

Soups

Lentil Soup

Salad

Kale Guacamole Salad

Mediterranean Salad

Sonora Salad

Kids Meals

Kids Grilled Cheese

Kids Quesadilla

Kids Macaroni and Cheese

Sides

Buttermilk Mashers

vegetarian and gluten free

Cheddar Poblano Grits

vegetarian and gluten free

Grilled Broccoli

vegan and gluten free

Macaroni and Cheese

Steamed Green Beans

vegan and gluten free

Dinner Salad

Desserts
5-Star Reviews
Hear from people who love this spot
Subhash Chandra Mahesh K.
3 months ago
We love Hyde park Grill. They know how to do take out. And they add cute messages on how to reheat retain items. 🥰
---
It's amazing every time! Chicken fried steaks are massive.
---
They have the best chicken fried steak on this app. 'Nuff Said
---
They have consistently tasty comfort food that travels well.
---
Great food! Fresh vegetables.
---
The food at Hyde Park is delicious and I love it
---
I've been a Hyde Park Grill customer ever since I can remember, and the food is unfailingly good. Love that my old favorites like the battered fries and peach pudding are still on the menu.
---
They have the absolute best comfort food.
---
Always get great food and portion size is perfect.
---
---
Food is delicious, well prepared, good portions
---
---
Best hamburger in town which is really the size of a hanburger steak, cooked to perfection, great sides, always quality
---
---
The most delicious Rueben
---
Fabulous vegan burger and to die for peach pudding. Great fries too!