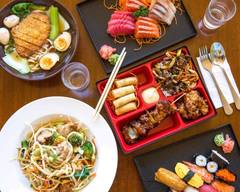 Location and hours
Shop 31 Ringwood Square, 59-65 Maroondah Highway, Ringwood VIC 3134
Sunday - Thursday
11:00 AM - 07:00 PM
Friday
11:00 AM - 07:15 PM
Saturday
11:00 AM - 07:00 PM
Hitoshi Sushi
4.8 (116 ratings) • Sushi • $
  •  
More info
15–30 min • $0.49 Delivery Fee + Service Fee
Tap for hours, info, and more
Free with A$30 Purchase (add to cart)

Picked for you

Cooked Tuna Roll (GF) x 2 Rolls

Teriyaki Chicken Roll x 2 Rolls

Family Meals

Miso soup,
Assorted sushi B (3 raw fish, one egg, and one tofu inari, two california roll and two maki),
Gyoza 6 pcs,
Harumaki 6 pcs,
Tori no teriyaki (crispy chicken schnitzel served in teriyaki sauce with steam vegetables),
Steamed rice ,
Your choice of two 375mL cans of drink (Coke, Diet Coke, Coke Zero, Sprite, Fanta, Solo or Sparkling Mineral Water)

Miso Soup x 4,
Assorted Sushi B (9pcs),
Assorted sashimi (10pcs),
Seaweed salad,
Gyoza (6pcs),
Takoyaki (6pcs),
Tonkatsu (Panko pork schinitzel with salad),
Teri No Teriyaki (Crispy chicken schnitzel served in teriyaki sauce with steam vegetables),
Steamed Rice x 4,
Softdrink 375ml Can x 4 (Choice of Coke, Diet coke, Zero Coke, Sprite, Solo, or Fanta)

Miso soup x 6
Deluxe sushi B (11pcs),
Assorted Sashimi (16pc),
Gyoza 6pcs,
Tempura (1 pc prawn, 4pcs fish and 6pcs vegies),
Agedashi tofu 4pcs,
Edamame,
Tori no teriyaki (crispy chicken schnitzel served in teriyaki sauce),
Teriyaki salmon,
Tofu Itame (Stir fried tofu with veg)
Steamed rice x 6,
Your choice of 375mL can of drink. (Choice of Coke, Diet coke, Coke zero, Fanta, Sprite or Solo)

Bento Boxs

Platters

Assorted Sushi And Nori Platter

Assorted Sushi And Sashimi Platter

Salmon And Tobiko Platter

Assorted Hand Rolls Platter (Small)

Assorted Hand Rolls Platter (Large)

Vegetarian Assorted Sushi and Nori Platter 44 Pieces

Nori Rolls

California Hand Roll x 2 Rolls

Vegetarian Roll x 2 Rolls

Teriyaki Chicken Roll x 2 Rolls

Teriyaki Chicken Roll with Brown Rice x 2 Rolls

Raw Salmon Roll (GF) x 2 Rolls

Raw Salmon Roll with Brown Rice x 2 Rolls

Raw Tuna Roll (GF) x 2 Rolls

Cooked Tuna Roll (GF) x 2 Rolls

Cooked Tuna Roll with Brown Rice x 2 Rolls

Tamago Roll (GF) x 2 Rolls

Avocado Roll (GF) x 2 Rolls

Panko Prawn Roll x 2 Rolls

Smoked Salmon Roll (GF) x 2 Rolls

Spicy Salt & Pepper Calamari Roll x 2 Rolls

Homemade Japanese Mayonnaise 50ml

Gluten Free Soya Sauce (Fish Shape) 3ml

Sushi Packs

Assorted Sashimi Small 10 pieces

Assorted Sashimi Large (16 pieces)

Gluten Free Soya Sauce (Fish Shape) 3ml

Entree

Harumaki 6P

Samyang Buldak Hot Chicken Flavor Spicy All Purpose Dipping Sauce

Murasaki IMO Croquette (2pc)

Kabocha (Pumpkin) Croquette (2pcs)

Homemade style Japanese wasabi using horseraddish and water, Packaged in 50ml container

Assorted vegetables deep fried in light batter served with tempura sauce.

Gyoza Vegetarian 6pcs

Rice Dishes

No.25 Teriyaki Salmon Don

No.26 Kara Age Don

No. 32 Curry Tofu Don (GF)

Hitoshi style fried rice with selection of seafood.

Hitoshi style fried rice with grilled eel and shrimp.

No.33 Curry Yasai Don (GF)

Vegetables cooked in Japanese style curry on rice.

Noodle Dishes

Hell raisingly hot Hitoshi style in Japanese egg noodle soup.

Stir fried noodles with fresh vegetables.

Stir fried rice noodles with vegetables.

Chicken, prawn and vegetables in udon noodle soup.

Assorted vegetables in udon noodle soup.

Crumbed deep fried chicken in udon noodle soup.

Curry beef and vegetables in udon noodle soup.

Prawn, fish and vegetables in a light batter in udon noodle soup.

No.54 Crispy Chicken Ramen

Crispy chicken and vegetables in Japanese egg noodle soup.

Drinks

Lipton Iced Peach Tea 500ml (Bottle)

Nu Sparkling Mineral Water 500ml

Nu Pure Spring Water 600ml

Sangaria Marble Ramune Original 200ml

Bundaberg Ginger Beer 375ml

UCC Original Coffee 337ml CAN

Nanyang Sparkling Yoghurt 400ml

Fuji Lychee Soda Ramune 200ml

Pokka Guava Juice Drink 300ml

BOSS Zeitaku Bitou (less sugar) 185g

Lipton Iced Lemon Tea 500ml

Pokka Green Tea (No Sugar) 300ml Can

Pokka Ice Lemon Tea 330ml

Toin Marble Ramune Blue Hawaii 200ml

TOIN Marbe Ramune Momo (Peach) 200ml

TOIN Marble Ramune Melon 200ml

Tomomasu Mango Sparkling Water 300ml

Tomomasu Rockmelon Sparkling Water 300ml

KKOH Shaem Honey Citron Tea Concentrate 1kg

KKOH Shaem Honey Ginger Tea Concentrate 1kg

Yakult Family 10pk (10x65ml)

Dessert

Meiji Maccha (Green Tea) Ice-Cream 200ml

Kotobuki Azuki Dorayai (Pancake Sandwich with Red Bean)

Arata Super Melty Rich Sesame Ice Cream 150ml

Tarami Dossari Mikan Jelly 230g

Kitagawa FF Strawberry Donut 40g

Daifuku (Dairy Free) - Black Sesame

Patti to the Max (Whole Food Breakie Pot 300g - Cho Banana

Patti to the Max (Whole Food Breakfast Pot 300g - Choc Berry Chia

Patti to Max (Whole Food Breakie Pot 300g - Tiramisu

Patti to the Max (Whole Food Breakie Pot 300g - Strawberries & Cream

Kitagawa FF Soybean Flavour Donut 40g

Imuraya Taiyaki Ice 130ml

Jun Nama Goma Cream Daifuku - Black Sesame

Jun Nama Matcha Cream Daifuku 60g

Sauce & Spice

Homemade Japanese Mayonnaise 50ml

Samyang Buldak Hot Chicken Flavor Spicy All Purpose Dipping Sauce

Kikkoman Sushi Sashimi Soy Sauce 150ml

Kikkoman Gluten Free Soy Sauce 250ml

Gluten Free Soya Sauce (Fish Shape) 3ml

Kadoya Goma Abura (Pure Sesame Oil) 163ml

House Shichimi Togarashi 18g
Frequently asked questions
Can I order Hitoshi Sushi delivery in Melbourne with Uber Eats?
Yes. Hitoshi Sushi delivery is available on Uber Eats in Melbourne.
Is Hitoshi Sushi delivery available near me?
Hitoshi Sushi delivery might not be available everywhere in Melbourne, so enter your address to see if it's available near you.
How do I order Hitoshi Sushi delivery online in Melbourne?
There are 2 ways to place an order on Uber Eats: on the app or online using the Uber Eats website. After you've looked over the Hitoshi Sushi menu, simply choose the items you'd like to order and add them to your cart. Next, you'll be able to review, place, and track your order.
What's the best thing to order for Hitoshi Sushi delivery in Melbourne?
What's best at Hitoshi Sushi is totally up to you and your personal preference. If you're in need of some inspiration, consider trying one of the items featured in "Picked for you."
How do I get $0 Delivery Fee at Hitoshi Sushi in Melbourne?
The Delivery Fees may vary depending on a number of factors, like your location. Enter your Melbourne address to see the current Delivery Fee. You can also explore the Uber Eats membership and subscription options available in your area to see if you can save money on Hitoshi Sushi delivery with $0 Delivery Fee on select orders.