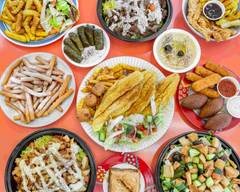 Location and hours
5201 Lapalco Blvd, Marrero, LA 70072
Sunday
12:00 PM - 7:45 PM
Monday - Thursday
11:00 AM - 8:45 PM
Friday - Saturday
11:00 AM - 11:45 PM
Gyro Grill
5201 Lapalco Blvd, Marrero, LA 70072
Pickup
5–15 min • 323.2 mi
What customers are saying

Reviews from people who've ordered here

TH

It was good!

TH

I love it!

TH

It was amazing

TJ

They always serve amazing food and have amazing staff

KT

Hot food, and always fresh. Very delicious.

TH

I love gyro grill so much I order it like almost every other day. I bet I'm their favorite...

TH

It was good!

TH

It's good imma keep ordering into I go broke

ML

Delicious, accurate, will be back!

SE

Delicious and well prepared. Delivered hot and packaged well

LO

Great

DD

Top tier.

AD

The shawarma bowls are great!

DD

Taste great.

DD

Great even if it look like the order was substituted.

DD

It was great.

SJ

Delish! Great lunch!

Special Grilled Platters (All come with rice & salad)

Gyro Platter w/ tzatziki sauce

A platter of grilled seasoned strips of meat with the tzatziki sauce.

Skewers of marinated and seasoned, boneless grilled chicken with garlic sauce.

A platter of grilled chicken with garlic sauce.

Grilled seasoned meat cut into thin slices with tahini sauce.

Skewers of grilled seasoned chicken kebab, lamb kebab, beef kafta, & and chicken kafta with garlic sauce.

Marinated baby lamb rib cuts, grilled to perfection with tahini sauce with our special recipe.

Juicy cubes of grilled marinated, boneless baby lamb grilled to perfection with tahini sauce.


Skewers of grilled ground beef and lamb mixed with tahini sauce.

Bowls

Sauteed shrimp over a bed of rice with garlic mayo, tomatoes and chopped onions

Fried spiced balls of ground chickpeas over a bed of rice with tomatoes, chopped onions and tahini sauce.

Sandwiches & Wraps

Lamb and beef mix with tzatziki sauce, lettuce, tomatoes, and onions.

Marinated sliced chicken breasts with garlic mayonnaise, pickles, tomatoes, and onions.

Philly Cheesesteak on pita

Thinly sliced beef with garlic mayonnaise, cheese, lettuce, tomatoes, and grilled onions. With fries and drink.

Loaded Fries

Appetizers

Seafood Dinners

Chicken Dinner

Kids Meal

Salads

Sides

Drinks

Desserts

Other sides
What customers are saying
Reviews from people who've ordered here
---
---
---
They always serve amazing food and have amazing staff
---
Hot food, and always fresh. Very delicious.
---
I love gyro grill so much I order it like almost every other day. I bet I'm their favorite customer.😂they probably know my name by now.
---
---
It's good imma keep ordering into I go broke
---
Delicious, accurate, will be back!
---
Delicious and well prepared. Delivered hot and packaged well
---
---
---
The shawarma bowls are great!
---
---
Great even if it look like the order was substituted.
---
---