Greek Xpress Plainview Menu and Delivery in Plainview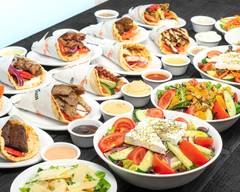 Location and hours
437 S. Oyster Bay Rd, Plainview, NY 11803
Sunday
10:45 AM - 08:45 PM
Main Menu (3rd Party)
11:00 AM - 08:45 PM
Catering Menu (3rd Party)
Monday - Thursday
10:45 AM - 04:00 PM
Lunch Menu (3rd Party)
10:45 AM - 08:45 PM
Main Menu (3rd Party)
11:00 AM - 08:45 PM
Catering Menu (3rd Party)
Friday
10:45 AM - 04:00 PM
Lunch Menu (3rd Party)
10:45 AM - 09:00 PM
Main Menu (3rd Party)
11:00 AM - 09:00 PM
Catering Menu (3rd Party)
Saturday
10:45 AM - 09:00 PM
Main Menu (3rd Party)
11:00 AM - 09:00 PM
Catering Menu (3rd Party)
Greek Xpress Plainview
4.8 (118 ratings) • Mediterranean • $
  •  
More info
437 S. Oyster Bay Rd, Plainview, NY 11803
Tap for hours, info, and more
Enter your address above to see fees, and delivery + pickup estimates.
Here's one of the 3 most popular spots for Greek delivery in all of Plainview. Love garden salad takeout as much as the rest of your city? You'll be happy to know it's offered at Greek Xpress Plainview. • $ •
Mediterranean
 • 
Greek
 • 
Vegetarian
 • 
Healthy
 • 
Group Friendly
Picked for you

L1 Salad with Grilled Chicken.

Lunch Specials (Online)

L1 Salad with Grilled Chicken.

L2 Spinach Pie with Greek Salad.

L5 Zucchini or Falafel Pita.

L6 Two Chicken or Pork Sticks.

L9 Buffalo Wings or Chicken Fingers.

L10 Salad with Meatless Gyro.

L11 Aegean Salad with Salmon.

L12 Santorini Salad with Shrimp.

L13 Oven Roasted Chicken.

L14 Gr Chicken Breasts w/ Gr Vegetables.

Beverages (Online)

Smoothies & Frappe (Online)
Frequently asked questions
Can I order Greek Xpress Plainview delivery in Plainview with Uber Eats?
Yes. Greek Xpress Plainview delivery is available on Uber Eats in Plainview.
Is Greek Xpress Plainview delivery available near me?
Greek Xpress Plainview delivery might not be available everywhere in Plainview, so enter your address to see if it's available near you.
How do I order Greek Xpress Plainview delivery online in Plainview?
There are 2 ways to place an order on Uber Eats: on the app or online using the Uber Eats website. After you've looked over the Greek Xpress Plainview menu, simply choose the items you'd like to order and add them to your cart. Next, you'll be able to review, place, and track your order.
What's the best thing to order for Greek Xpress Plainview delivery in Plainview?
What's best at Greek Xpress Plainview is totally up to you and your personal preference. If you're in need of some inspiration, consider trying one of the items featured in "Picked for you."
How do I get $0 Delivery Fee at Greek Xpress Plainview in Plainview?
The Delivery Fees may vary depending on a number of factors, like your location. Enter your Plainview address to see the current Delivery Fee. You can also explore the Uber Eats membership and subscription options available in your area to see if you can save money on Greek Xpress Plainview delivery with $0 Delivery Fee on select orders.