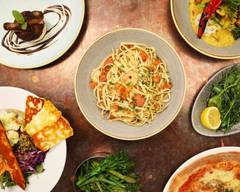 Location and hours
Newgatestreet Road,Goffs Oak, WALTHAM CROSS, EN7 5RH
Sunday
12:00 PM - 09:00 PM
Sunday Main Menu
Monday - Saturday
12:00 PM - 09:00 PM
Sunday Main Menu
12:00 PM - 09:00 PM
Midweek and Saturday Main Menu
Goffs Oak
4.0 (11 ratings) • Steak • £
  •  
More info
Newgatestreet Road,Goffs Oak, WALTHAM CROSS, EN7 5RH
Tap for hours, info, and more
Picked for you

FRESHLY BATTERED LINE-CAUGHT COD & CHIPS

STICKY TOFFEE PUDDING (V)

BUNDLES

DIRTY BURGER & NON-ALC BEER

DIRTY BURGER & COKE/DIET COKE

SMALL PLATES

HALLOUMI FRIES & SWEET CHILLI SAUCE

ROASTS

FIG & DOLCELATTE ROAST (V)

CLASSIC MAINS & SALADS

FRESHLY BATTERED LINE-CAUGHT COD & CHIPS

SPICED COCONUT CURRY (VE)

STEAKS

28 DAY-AGED 7oz FILLET STEAK

30 DAY-AGED 10oz RIB-EYE STEAK

SIDES

RUSTIC THICK-CUT CHIPS (V)

TENDERSTEM® BROCCOLI, GREEN BEANS, SPINACH, SAMPHIRE (VE)

HALLOUMI FRIES & SWEET CHILLI SAUCE (V)

CHILDRENS ROASTS

CHILDRENS MENU

SPICED COCONUT CURRY (VE)

SPICED COCONUT CHICKEN CURRY

with your choice of veg sticks or peas

DESSERTS

WARM HOME-BAKED CHOCOLATE BROWNIE (V)

STICKY TOFFEE PUDDING (V)

DRINKS

An iconic Italian premium pale lager. Instantly crisp and refreshing with subtle citrus notes. ITALY 5.0%

The ultimate sunshine beer. Crisp and refreshing with a hint of sweetness and gentle hoppy notes. MEXICO 4.5%

This multi-award winning American style IPA is multi-hopped, with powerful citrus aromas and flavours culminating in a remarkably smooth, moreish finish. Great with spicy food - and mature cheddar cheese ENGLAND 5.9%

PERONI 0.0% ALCOHOL FREE LAGER 330ml

SANDFORD ORCHARDS DEVON RED

a perfectly balanced, refreshing, medium bodied tannin-forward cider, named after the rich red soil that give Sandford Orchards their distinctive quality. 4.5%


soft, fresh, intense. Luxuriant aroma of stone fruits, the taste of ripe peach and sweet pear, yet with the freshness of lemon. Spain 12.5%

TERRE FORTI TREBBIANO, CHARDONNAY

an easy-drinking, light and fresh style with lots of crisp fruit. Italy 12%

JEAN-MARC BROCARD, CHABLIS

a timeless icon, this Chablis is delicate and floral with green apple and citrus zest that will refresh your palate

the trendy alternative to Pinot Grigio. Delightful citrus and floral aromas, flavours of fresh green apple, lemon and tart pineapple, finished with a crisp minerality. USA, 14%

soft and silky with great structure - ageing in French oak brings a smokey, chocolate finish. Mendoza, Argentina 14%

CASTELLARE, CHIANTI CLASSICO

a real old-world classic – layers of dark fruit with subtle spice and smokiness. Italy, 13.5%

CHATEAU LÉOUBE, ROSÉ DE LÉOUBE

all the classic Provence signals - crisp, dry and peachy pink from a super sophisticated organic producer. Côtes de Provence, France 13%

light and refreshing. 12%

make your Prosecco experience extra sparkly with this one-of-a-kind cut-glass bottle

FREIXENET ITALIAN SPARKLING ROSÉ

celebrate stylishly with our favourite pink fizz presented in an eye-catching cut-glass bottle
Goffs Oak has a FHRS rating of 5. This information was updated on 19/08/2022. The current rating is on their page on the FSA Website. We are not able to provide delivery and self-collection meals for guests with food allergies or intolerances at this time. However, we can cater for specific dietary requirements at our restaurant so please visit and eat in with us instead. Our kitchens use ingredients containing the following allergens: Celery, Cereals containing Gluten, Crustaceans, Egg, Fish, Lupin, Milk, Molluscs, Mustard, Nuts, Peanuts, Sesame, Soya and Sulphites (over 10ppm) and there is a risk of cross contamination from these allergens. For any questions regarding our dishes, please contact the restaurant directly. Click here if you would like to see detailed allergen information, including the allergen content of specific dishes. Adults need around 2000 kcal a day.
Frequently asked questions
Can I order Goffs Oak delivery in London with Uber Eats?
Yes. Goffs Oak delivery is available on Uber Eats in London.
Is Goffs Oak delivery available near me?
Goffs Oak delivery might not be available everywhere in London, so enter your address to see if it's available near you.
How do I order Goffs Oak delivery online in London?
There are 2 ways to place an order on Uber Eats: on the app or online using the Uber Eats website. After you've looked over the Goffs Oak menu, simply choose the items you'd like to order and add them to your cart. Next, you'll be able to review, place, and track your order.
What's the best thing to order for Goffs Oak delivery in London?
What's best at Goffs Oak is totally up to you and your personal preference. If you're in need of some inspiration, consider trying one of the items featured in "Picked for you."
How do I get $0 Delivery Fee at Goffs Oak in London?
The Delivery Fees may vary depending on a number of factors, like your location. Enter your London address to see the current Delivery Fee. You can also explore the Uber Eats membership and subscription options available in your area to see if you can save money on Goffs Oak delivery with $0 Delivery Fee on select orders.