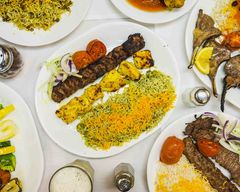 Location and hours
7961 Skyland Ridge Pkwy, 110, Raleigh, NC 27617
Sunday
Closed
Monday - Thursday
11:00 AM - 9:00 PM
Menu
Friday - Saturday
11:00 AM - 9:00 PM
Menu
11:00 AM - 10:00 PM
Menu
Flame Kabob (Skyland Ridge Pkwy)
4.8 (66 ratings) • Iranian • $$ •
  •  
Read 5-Star Reviews
  •  
More info
7961 Skyland Ridge Pkwy, 110, Raleigh, NC 27617
Tap for hours, info, and more
Delivery • Pickup
Opens Friday 11:00 AM
Picked for you

NEW Dish!!! Kotlet Platter

Perfect for lunch or a lighter dinner! 3 pieces of ground beef OR veggie patties, house Salad, 1 whole tandoori bread, and a choice of
small cup of Yogurt OR Ranch sauce.

Seasonal Specials (Limited Time Offer) - Eat More, Pay Less!!!

Start your meal with sharing ONE full size freshly chopped Garden Salad with house dressing, then enjoy a feast of kabobs including: TWO Beef OR Chicken Koobideh Kabob AND TWO Chicken Breast Kabobs accompanied with TWO full servings of White OR Lentil Rice, ONE Whole Tandoori Bread, and TWO Small Yogurt Dips. Finish with TWO house made Baklavas.

Eat THE BESTS! Start with our mighty Appetizer Deluxe, then enjoy a feast of kabobs including: TWO Beef OR Chicken Koobideh Kabob, ONE Chicken Breast Kabob, ONE Beef Tenderloin OR Lamb Kabob accompanied with TWO full servings of White OR Lentil Rice, TWO Whole Tandoori Bread, and TWO Small Yogurt Dips. Finish with TWO elevated desserts, house made Napoleons.

Limited Time Only - Seasonal Specials

Assorted Pasteris - Large (Limited Availability)

Assorted Pasteris - Medium (Limited Availability)

Premium Baklava - Medium (Limited Availability)

Appetizers/Salads (All Vegetarian)

Veggie Noodle Soup (Ash-e-Reshteh)

Stuffed Grape Leaves (Dolmeh)

Eggplant Dip/Kashk-e-Bademjan

Yogurt Dip (Mast-o-Khiyar)

Traditional Persian Dishes - All dishes served with saffron topped Basmati rice (white or lentil), char-grilled Tomatoes, half Tandoori Bread and a small cup of Yogurt Sauce.

Bone in Chicken Kabob (Joojeh)

Steak Tenderloin Kabob (Bargg)

Koobideh & Chicken Breast (Vaziri)

Koobideh & Beef Kabob (Soltani)

Family Kabob Feast Combo - Regular

Family Kabob Feast Combo - Deluxe

Veggie Kabob (Vegetarian)

Combination of boneless chicken breast and steak tenderloin OR lamb, flame-grilled.

Kohresht - Specialty Persian Stews - All stews are served with saffron topped white Basmati rice, ½ tandoori bread, and one small cup of Yogurt Sauce.

Khoresht-e-Gheymeh - Yellow Split Pea Stew

Khoresht-e-Gheymeh Bademjaan - Eggplant Stew

Khoresht-e-Bamyeh - Okra Stew (Vegetarian)

Khoresht-e-Gormeh Sabzi - The Most Popular Persian Stew

Sandwiches - All sandwiches are wrapped in our clay oven Tandoori Bread with lettuce, tomato, onion, cucumber, yogurt sauce. Spicy sauce by request. Add Feta cheese for $1.50.

Chicken Breast Kabob Sandwich

Ground Beef Cutlet Sandwich

Beef Tenderloin Kabob Sandwich

Specialty Rices/Vegetarian

Side Items

NEW! - Premium Lamb Gravy (Sauce)

Grilled Mixed Vegetable - Per Skewer

tomato, onion, green pepper, zucchini and squash

Grilled Tomato - Per Skewer

Single skewer of tomatoes.

Grilled Onion - Per Skewer

Jojeh Kabob (Bone-In Chicken) - Per Skewer

Steak Beef Tenderloin Kabob (Bargg) - Per Skewer

Lamb Kabob (Barreh) - Per Skewer

Grilled Lamb Chop (shishlik)

Ground Beef Pattie - Per Piece

Veggie Pattie - Per Peice

Flame Famous Hot Sauce (1 oz)

Additional Crumbled Feta Cheese

Desserts

Drinks
5-Star Reviews
Hear from people who love this spot
---
The food is fresh and delicious. The bread is outstanding.
---
---
Great fresh grilled food and lamb chops 🥳
---
VERY, VERY GOOD JUST LIKE MY COOKING
---
Best Persian food in Raleigh!!!
---
---
---
Subhash Chandra Mahesh K.
10 months ago
i love this place because of two things. Quality of food and consistency. They never compromise on either of those things.
---
Delish, always pleased when all the xtras arrive as ordered!!
---
Everything was cooked perfectly! All our sauces arrived, will def order again!