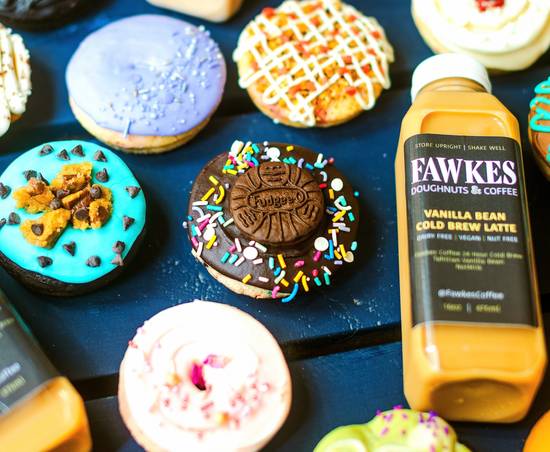 Location and hours
10137 104 St Nw, Edmonton, AB T5J 0Z9
Sunday
10:00 AM - 3:00 PM
Monday - Thursday
Closed
Friday
9:00 AM - 2:00 PM
Saturday
9:00 AM - 4:00 PM
Fawkes Doughnuts & Coffee POP UP
Closed • Available Friday 9:00 AM
What customers are saying

Reviews from people who've ordered here

MC

I love the variations of doughnuts they have

PG

Best espresso beans I have tasted!

AB

Love vegan doughnuts ❤️❤️❤️

SV

Friendly staff and great selection of flavors.

JN

The chilled Lavendar London fog was absolutely delicious.

AY

Best donuts in town, vegan or not!

JV

Amazing cold brew! Delicious doughnuts!

EC

Vegan baking can be a swing and a miss because it's so hard to use ingredients right- but...

TB

The Best Doughnuts In Edmonton ❤️

AB

It's Vegan

JM

Yummy!

MC

I love how there's different doughnuts every 2 weeks!

JM

Amazing, absolutely amazing!

TB

Best Doughnuts In Edmonton ❤️🍩
What customers are saying
Reviews from people who've ordered here
MC
I love the variations of doughnuts they have
---
PG
Best espresso beans I have tasted!
---
AB
Love vegan doughnuts ❤️❤️❤️
---
SV
Friendly staff and great selection of flavors.
---
JN
The chilled Lavendar London fog was absolutely delicious.
---
AY
Best donuts in town, vegan or not!
---
JV
Amazing cold brew! Delicious doughnuts!
---
EC
Vegan baking can be a swing and a miss because it's so hard to use ingredients right- but I got a box of their dougnuts and a bottle of their lavender iced tea with their not-milk and I'm blown away. Being lactose intolerant is hard when you hate milk alternatives and I could not tell a difference with this! Delicious and totally will be having again!
---
TB
The Best Doughnuts In Edmonton ❤️
---
AB
---
JM
---
MC
I love how there's different doughnuts every 2 weeks!
---
JM
Amazing, absolutely amazing!
---
TB
Best Doughnuts In Edmonton ❤️🍩