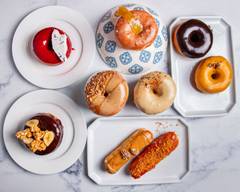 Fan-fan Doughnuts
View delivery time and booking fee.
Location and hours
Sunday
09:30 AM - 04:30 PM
Monday - Thursday
10:00 AM - 04:00 PM
Friday - Saturday
09:30 AM - 04:30 PM
(86) on Yelp
•
Read reviews
448 Lafayette Avenue Brooklyn, NY 11205 • More
---
Picked for you

Vanilla pastry cream filled eclair topped with chocolate and garnished with coconut nibs

Regular Doughnuts

Mexican Cinnamon Sugar Doughnut

Vahlrona chocolate glaze.

Slated brown butter caramel.

Lemon Lime (Luna Limon) Doughnut

Chocolate glaze topped with Riasted Banana Chips and Caramelized Popcorn

Choc-Caramel glaze topped with half almond

Braids

Fan-Fans

Hazelnut praline with chocolate. Filled.

Raspberry mousse filled eclair topped with a choc-choc glaze

Vanilla bean diplomat cream filled eclair topped with a berry_rum glaze

Toasted coconut pastry cream filled eclair, topped with tropical glaze(tangerine, lime, mango and passion fruit) garnised with toasted coconut

Vanilla pastry cream filled eclair topped with chocolate and garnished with coconut nibs

Passion fruit filled eclair topped with a fresh whipped cream

Coffee Pastry Cream filled eclair topped with White Chocolate

Dulcd de Leche filled eclair topped with chocolate and garnished with coconut cookie crumble

Sticky Bun

Cinnamon topped with Almond

Beverages

Earl grey, chamomile, Darjeeling, and passion green tea.

Chocolate Festival 4/13-4/15

Chai Flavor 41%milk & 61%dark

Churrios & chocolate 72% Dark & Cocoa Rouge

Champurrado 61% & Cocoa Rouge

Coconut-Lemongrass 38%milk 61%dark

Tropical Chocolate Single Origin Hawaiian 38%milk

Rooibis-Honeycomb 31%white

UNITED KINGDOM STICKY BUN

Stickybun Toffee Bun 72% Dark

Banana milk drink & chocolate fudge sauce Cocoa Rouge & 61%

OUR SIGNATURE HOT CHOCOLATE

Hot Chocolate with Doughnut croutins & homemade marshmallow 61% dark & 41 milk

Dragon Pearl Jasmine 61% Dark
I noticed Fan Fan took over the former Dough shop. The dough base is interestingly the same but the flavors could not be more different. Fortunately, I was able to nab one of their Mother's Day limited batch- Strawberry-Rhubarb Cheesecake! Hub and I got a whole box to share with the kids. -Boston Creme Fan...  
---
I heard that the woman who had started Dough spun off a new shop in Bed Stuy, and I finally made time to take the trip from Manhattan. The donuts were pretty good (fluffier than Dough), but had a terrible shelf life and service was rude. Probably not worth going out of your way. I...  
---
I love these donuts for their fun flavors. China (The chocolate tea) - delicious White Coffee - good Honey - GOOD Yuzu Meringue - a bit too sweet for me Iran - MY FAVORITE Please be prepared to wait in line (advice from my bf)
---
I totally missed the fanfan chocolate donut festival. Shamed of myself but I do give fanfan another try and looking for something different other than previous Dough's donut experience. Actually, not much of a surprise.
---
What great donuts! Unique flavors. They had the line out the door. I liked the mulled wine and the guava cheese donuts. The donuts are nice and yeasty with a different special glaze on each. Definitely not your standard dunkin donuts.
---
So much donuts and so many flavors. The first time I came, I called in advance and picked up. Super smooth. The second time I went in person since they had a "donut festival" going on. The lines were out to the next bldg! They created donuts with influences from various countries. Some of my...  
See more on Yelp