Fajita Kings Menu and Delivery in Temple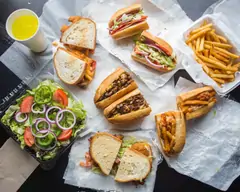 Location and hours
2006 South 31st Street, Temple, TX 76504
Sunday
12:00 AM - 01:30 AM
Menu
08:00 AM - 11:30 PM
Menu
Monday - Friday
12:00 AM - 01:30 AM
Menu
08:00 AM - 11:30 PM
Menu
11:00 AM - 02:00 PM
Lunch Menu
Saturday
12:00 AM - 01:30 AM
Menu
08:00 AM - 11:30 PM
Menu
Fajita Kings
4.6 (81 ratings) • Burgers
  •  
More info
2006 South 31st Street, Temple, TX 76504
Tap for hours, info, and more
Enter your address above to see fees, and delivery + pickup estimates.
Burgers
 • 
Sandwiches
 • 
Tacos
Picked for you

#32. Golden Queso Enchiladas

Appetizers

Beverages

Desserts

Coffees

Abuelita Chocolate Cappuccino

Breakfast Plates

#10. Supreme Ruler (3 pcs)

Sizzling Fajitas

#21. Poblano Chicken Fajitas

#22. King Fajitas Parrillada

#24. Shrimp Fajitas (12 pcs)

Mouth Melters

Cheeseburger & French Fries

Grilled Jalapeño Cheeseburger

Chicken Avocado Sandwich & French Fries

Double Big Sloppy Burger & French Fries

Chivito Sandwich & French Fries

Enchilada Plates

#31. Chili Gravy Enchiladas

#32. Golden Queso Enchiladas

#35. Chicken & Spinach Enchiladas

Taco Plates

#39. Shrimp Taco Plate (2 pcs)

Dinner Plates

#11. Chicken Fajita Pasta

#17. Principe Chimichanga

Fish & Shrimp

#26. Ceviche Peruano (16 oz)

#27. Shrimp Cocktail (16 oz)

#28. Ecuadores Coconut Fish

#29. Fuego Shrimp (12 pcs)

Prince & Princess Plates (Kids)

A la Carte

Soups & Salads

Vegan and Vegetarian

Potatoes cooked with rainbow bell peppers, onions, cactus, and fuego supremo salsa. Served with lettuce, tomato, avocado, and beans.

#42. Vegan Burrito Bowl (32 oz)

Rainbow bell peppers, rice, black beans, potatoes, cactus, corn, pico, lettuce, carrots, cilantro, and avocado.

Egg rainbow peppers, onions, spinach, avocado, tomato, black beans, and potato.

Four corn tortilla tacos with cactus and avocado. Served with grilled onions, cilantro, one grilled jalapeno, and beans.

Grilled rainbow peppers, onions, cactus, mushrooms California vegetables, and corn. Served with guacamole, pico, rice, beans, choice of corn or flour tortilla.
Frequently asked questions
Can I order Fajita Kings delivery in Temple with Uber Eats?
Yes. Fajita Kings delivery is available on Uber Eats in Temple.
Is Fajita Kings delivery available near me?
Fajita Kings delivery might not be available everywhere in Temple, so enter your address to see if it's available near you.
How do I order Fajita Kings delivery online in Temple?
There are 2 ways to place an order on Uber Eats: on the app or online using the Uber Eats website. After you've looked over the Fajita Kings menu, simply choose the items you'd like to order and add them to your cart. Next, you'll be able to review, place, and track your order.
What's the best thing to order for Fajita Kings delivery in Temple?
What's best at Fajita Kings is totally up to you and your personal preference. If you're in need of some inspiration, consider trying one of the items featured in "Picked for you."
How do I get $0 Delivery Fee at Fajita Kings in Temple?
The Delivery Fees may vary depending on a number of factors, like your location. Enter your Temple address to see the current Delivery Fee. You can also explore the Uber Eats membership and subscription options available in your area to see if you can save money on Fajita Kings delivery with $0 Delivery Fee on select orders.