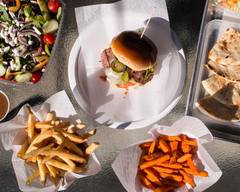 Location and hours
159 Delaware Ave, Delmar, NY 12054
Every Day
10:00 AM - 09:00 PM
Extra Napkin Burger Grill Salad
4.7 (76 ratings) • Burgers • $
  •  
More info
159 Delaware Ave, Delmar, NY 12054
Tap for hours, info, and more
Enter your address above to see fees, and delivery + pickup estimates.
Experience one of the most popular menu items among Uber Eats users at this evening go-to: the albany. If you're looking to order a couple things, you may consider this popular combination: the buffalo trip and the new york hot dog. • $ • Burgers
 • 
Comfort Food
 • 
Salads
 • 
Healthy
Picked for you

Appetizers

Burgers

Fresh & Natural Handcrafted Ground Beef Patty, Avocado, Lettuce, Tomato, Jalapeno, Turkey Bacon, Chipotle Sauce, Paper Jake Cheese.

Fresh and natural handcrafted double two ground beef patty, Romaine lettuce, double American cheese, tomatoes, onions, pickles, and extra napkin sauce.

Breaded chicken patty, beef hot dog, Romaine lettuce, parmesan cheese, and caesar dressing.

Build Own Your Burgers

Potatoes in a Plate

Wraps

Hot Dog

Kebabs

Marinated chicken served with rice and salad.

Mixed grill assortment of chicken kebab, and ground kofte to taste. Served with rice and salad.

Marinated ground beef served with rice and salad.

Milk Shakes

Pizzas

Mediterranean White Pizza

Choice of white or pizza sauce, mozzarella cheese, mushrooms, onions, tomatoes, peppers, black olives and broccoli.

Mac&Cheese Plate

Served on 7'' Aluminum Plate


Buffalo Chicken Mac & Cheese

Serving 7 inc Aluminium plate

Serving 7 inc Aluminium plate

Serving 7 inc Aluminium plate

Cajun Shrimp Mac & Cheese

Serving 7 inc Aluminium plate

Calzone

Homemade hand stretched dough stuffed with ricotta, mozzarella cheese, and served with a side of homemade marinara sauce

Salads

Seasoned grilled chicken, Romaine lettuce, croutons, red cabbage, grape tomatoes, cucumbers, and green peppers served with balsamic vinaigrette.

Romaine lettuce, turkey, tomato, cucumbers, onions, chickpeas, corn, and shredded cheddar served with ranch dressing.