Eltham Grill House Menu and Delivery in London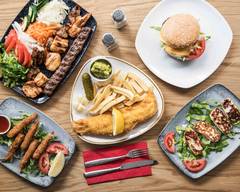 Location and hours
2-3 Chequers Parade, London, SE9 1
Sunday
Closed
Monday - Thursday
11:00 AM - 09:00 PM
Friday - Saturday
11:00 AM - 09:30 PM
Eltham Grill House
4.6 (56 ratings) • FishandChips • $
  •  
More info
2-3 Chequers Parade, London, SE9 1
Tap for hours, address, and more
Enter your address above to see fees, and delivery + pickup estimates.
$ • Fish and Chips
 • 
BBQ
 • 
Group Friendly
Picked for you

Starters

Fried Halloumi With Honey

Traditional Fish

8 Pieces Fresh Battered Scampi

Kebabs on Grill

Grilled Fish

Burgers

Chicken Burger with Cheese

Home made Chicken Breast fillet Burger

The Grill Empire Burger (BBQ)

The Grill Inferno - Spicy Burger

The Grill Inferno Chicken Breast Fillet Burger

Quarter Pounder Burger with Cheese

Half Pounder Burger with Cheese

King Size Burger with Cheese

Veggie Burger with Cheese

Steaks

Wraps

Traditional Grills & Brunches

Sausages

Pies

Minced Beef and Onion Pie

Chicken

8 Pieces of Chicken Nuggets

12 Pieces of Chicken Nuggets

15 Pieces of Chicken Nuggets

Salads

Sides

8 Pieces of Garlic Mushroom

Heinz Tartar Sauce Sachet

Desserts

Chocolate and Honey Comb Cheesecake

Drinks

Indian Tonic Water (Britvic) 200ml

J2O Orange & Passion Fruit

San Pallegrino Blood Orange

San Pallegrino Pomegranate & Orange
Eltham Grill House has a FHRS rating of 5. This information was updated on 20/05/2022. The current rating is on their page on the FSA Website. Allergies, intolerances and dietary requirements: Before ordering, please contact the restaurant directly and ask to speak to a member of staff who can assist if you require information about ingredients and help cater for your needs. Adults need around 2000 kcal a day.