El Kiosko Frutas y Helados (Veterans Memorial Dr) Menu and Delivery in Houston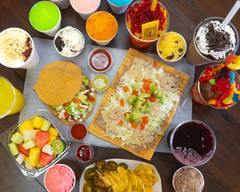 Location and hours
12108 Veterans Memorial Drive, Houston, TX 77067
Sunday
11:30 AM - 09:00 PM
Monday - Thursday
11:30 AM - 08:00 PM
Friday - Saturday
11:30 AM - 09:00 PM
El Kiosko Frutas y Helados (Veterans Memorial Dr)
4.8 (22 ratings) • Ice Cream + Frozen Yogurt • $$
  •  
Read 5-Star Reviews
  •  
More info
12108 Veterans Memorial Drive, Houston, TX 77067
Tap for hours, address, and more
Enter your address above to see fees, and delivery + pickup estimates.
Wondering what's recommended here at this evening go-to? Users love the Banana Split, which is one of the most popular items on the menu, as well as the Mexi Corn and the Torta Del Chavo, which are two of the items most commonly ordered together. • $$ •
Ice Cream + Frozen Yogurt
 • 
Juice and Smoothies
 • 
Sandwich
 • 
Desserts
 • 
Wings
Picked for you

Fresas con Crema Las del Antojo

Season Menu

Double Coffee Milkshake 20oz

Trole

Ice Cream

Fruit Salads

Pico de Gallo La del Pueblo

Sopa de Frutas De Alcurnia

Only Cucumber or Jicama or Papaya or Watermelon Fruit Salad

Only Cantaloupe or Mango or Pineapple Fruit Salad

Fresas con Crema Las del Antojo

Fresas con Platano y Crema

Fresas, Platano y Manzana

Juices

Orange, Carrot, Beet, Celery, and Parsley

Orange, Carrot, Celery, and Parsley

Orange, Nopal, Parsley, Pineapple, and Celery

Orange, Carrot, and Celery

Licuados - Shakes

Strawberry, Banana and Papaya

Orange, Pineapple, Banana, and Coconut (Milk free)

Mango, Yogurt, and Banana

Papaya, Banana, Strawberry, and Yogurt

Snacks

Tostada Moco (Very Spicy)

Tostada de Tinga de la Gaby (Spicy)

Torta del Bernal (Not Spicy)

Torta de Tinga de la Gaby (Spicy)

Aguas Frescas

Beverages

Specialties

Frituras

Specialty Chips - Los Preparados

Chips Lokos
Allergens: These items may include unlisted ingredients and/or be prepared on equipment that processes allergens. Take precautions if you have an allergy.
5-Star Reviews
Hear from people who love this spot
We love the fruit and the ice cream!