El Huerto Menu and Delivery in Santiago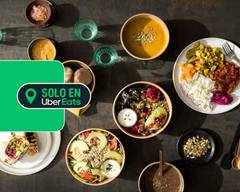 Location and hours
Orrego Luco 54, Providencia, Región Metropolitana, Chile, Región Metropolitana 750
Sunday
12:00 PM - 04:15 PM
Menú
09:00 AM - 12:00 PM
Desayuno
Monday - Saturday
12:00 PM - 10:30 PM
Menú
09:00 AM - 12:00 PM
Desayuno
El Huerto
4.9 (500+ ratings) • Vegetarian • $$
  •  
More info
Orrego Luco 54, Providencia, Región Metropolitana, Chile, Región Metropolitana 750
Tap for hours, info, and more
Enter your address above to see fees, and delivery + pickup estimates.
Picked for you

Burrito & Sopa (vegano)

Dhal de Lentejas

Chicana (vegano)

Picoteos

Para Compartir (vegano)

Guacamole (vegano)

Ceviche de Algas (vegano)

Hummus (vegano)

Servida con ensalada de lechuga, palta y tomate.

Mozzarella fresca, aceitunas, tomates cherry, rucula, pesto ( sin ajo ), frutillas y almendras tostadas.

Ensaladas del Mundo

Ensalada Altiplano (vegana)

Bowl Marroquí (vegano)

Ensalada California (vegana)

Chilena Sureña - vegano

Platos de Fondo

Chicana (vegano)

Falafel al Plato (vegano)

Hamburguesa de Lentejas (vegana)

Burrito & Sopa (vegano)

Spanakopita Vegana

Dhal de Lentejas

Sopas

Sopa de Zapallo (vegana)

Sopa de Tomate con Leche de Coco (vegana)

Acompañamientos

Postres

Ensalada de Frutas (vegana)

Barra de Coco y Chocolate (vegano)

Cheesecake (vegano)

Panqueque con Manjar y Nueces

Para Tomar

Frambuesas, Frutillas y arándanos

Despensa & Regalos

Libro "Cocina de Mercado"

Cocina del mundo, recetas vegetarianas.
Autor: Pepe Acevedo
Frequently asked questions
Can I order El Huerto delivery in Santiago with Uber Eats?
Yes. El Huerto delivery is available on Uber Eats in Santiago.
Is El Huerto delivery available near me?
El Huerto delivery might not be available everywhere in Santiago, so enter your address to see if it's available near you.
How do I order El Huerto delivery online in Santiago?
There are 2 ways to place an order on Uber Eats: on the app or online using the Uber Eats website. After you've looked over the El Huerto menu, simply choose the items you'd like to order and add them to your cart. Next, you'll be able to review, place, and track your order.
What's the best thing to order for El Huerto delivery in Santiago?
What's best at El Huerto is totally up to you and your personal preference. If you're in need of some inspiration, consider trying one of the items featured in "Picked for you."
How do I get $0 Delivery Fee at El Huerto in Santiago?
The Delivery Fees may vary depending on a number of factors, like your location. Enter your Santiago address to see the current Delivery Fee. You can also explore the Uber Eats membership and subscription options available in your area to see if you can save money on El Huerto delivery with $0 Delivery Fee on select orders.