Dog House Menu and Delivery in Orlando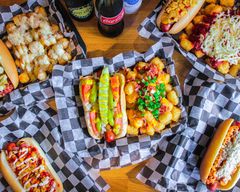 Location and hours
2527 Edgewater Dr, Orlando, FL 32804
Every Day
11:15 AM - 09:30 PM
Dog House
4.8 (45 ratings) • American • $
  •  
Read 5-Star Reviews
  •  
More info
2527 Edgewater Dr, Orlando, FL 32804
Tap for hours, info, and more
Enter your address above to see fees, and delivery + pickup estimates.
One of the most ordered items on the menu among Uber Eats users is the Certified Angus Beef Dog and the All Beef Dog and the Combo are two of the items most commonly ordered together at this evening go-to. • $ •
American
 • 
Fast Food
 • 
Bar Food
 • 
Comfort Food
Picked for you

Poppy seed bun, yellow mustard, onions, tomato slices, relish, dill pickle spear, and pickled peppers.

Chili, cheese sauce, and diced onions.

Dogs

Vegan Dog

Certified Angus Beef (CAB) Dog

House Dogs

Bacon, Sriracha, crushed Fritos, and ranch.

Jalapeño, diced onions, and Ranch dressing.

Taco shell, chilli, cheese sauce, lettuce, diced tomatoes, onios, buffalo sauce & jalapeños

Buffalo sauce and Blue cheese crumbles.

Chili, cheese sauce, and diced onions.

Poppy seed bun, Cream cheese, and everything bagel topping.

Peanut butter, honey, and raisins.

Sauerkraut, Swiss cheese, and Doghouse sauce.

Lettuce, diced tomatoes, onios, potato sticks, parmesan & herbs, ketchup & mustard

Bacon, shredded lettuce, diced tomatoes, and Doghouse sauce.

Tots

Sea salt and malt vinegar.

Marinara and Mozzarella cheese.

Tossed in Chinese five spice.

Balsamic vinegar glaze and Blue cheese crumbles.

Cheesy tots on a bed of mac and cheese.

Parmesan, garlic aiolic, and herbs.

BBQ sauce, bacon, and onion.

Bacon, ranch dressing, and cheese.

Green onions, cheese sauce, and bacon.

House Dogs Combo

Buffalo sauce & blue cheese crumbles

South of the Border Combo

Mains

Two House hot dogs
Two Frank-N-Tots Jr.
One large loaded tot
With 2 fountain drinks and 2 box juices

All Beef/Corn Dog with simple tots and drink

Frank-N-Tots

Sliced sausage with loaded tots

Kids

Beverages
5-Star Reviews
Hear from people who love this spot
place is always delicious
---
delicious food every time
---
Dog House always has amazing hot dogs and tots, I'm always super impressed with their selection and the flavors are on point! If you're looking for a good hot dog place, this is it!!
---
I appreciate a good dog. Fresh and tasty. Pretty reliable for a good hot dog.
Frequently asked questions
Can I order Dog House delivery in Orlando with Uber Eats?
Yes. Dog House delivery is available on Uber Eats in Orlando.
Is Dog House delivery available near me?
Dog House delivery might not be available everywhere in Orlando, so enter your address to see if it's available near you.
How do I order Dog House delivery online in Orlando?
There are 2 ways to place an order on Uber Eats: on the app or online using the Uber Eats website. After you've looked over the Dog House menu, simply choose the items you'd like to order and add them to your cart. Next, you'll be able to review, place, and track your order.
What's the best thing to order for Dog House delivery in Orlando?
What's best at Dog House is totally up to you and your personal preference. If you're in need of some inspiration, consider trying one of the items featured in "Picked for you."
How do I get $0 Delivery Fee at Dog House in Orlando?
The Delivery Fees may vary depending on a number of factors, like your location. Enter your Orlando address to see the current Delivery Fee. You can also explore the Uber Eats membership and subscription options available in your area to see if you can save money on Dog House delivery with $0 Delivery Fee on select orders.