Chili's (TRUJILLO ALTO) Menu and Delivery in Trujillo Alto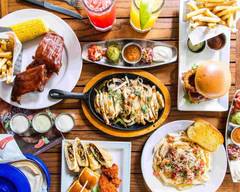 Location and hours
Expreso Manuel Rivera Morales, Trujillo Alto, 00976, Puerto Rico, 1, PR 00976
Sunday
11:00 AM - 09:30 PM
Menú
Monday
11:00 AM - 09:30 PM
Menú
12:00 AM - 12:00 PM
.
Tuesday - Thursday
11:00 AM - 09:30 PM
Menú
Friday - Saturday
11:00 AM - 10:30 PM
Menú
Chili's (TRUJILLO ALTO)
4.6 (500+ ratings) • American • $
  •  
Read 5-Star Reviews
  •  
More info
Expreso Manuel Rivera Morales, Trujillo Alto, 00976, Puerto Rico, 1, PR 00976
Tap for hours, address, and more
Enter your address above to see fees, and delivery + pickup estimates.
If you like to do as the locals do, consider ordering from Chili's, because it's particularly popular among Trujillo Alto locals. Wish you could ask Chili's customers what's the best thing to order here? Of the 150 things on the menu at this evening go-to, the Half Rack Baby Back Ribs is one of the most-ordered items. • $ •
American
 • 
Family Friendly
 • 
Burgers
Save on Select Items

Picked for you

4 a 6 Personas

FS Arroz Blanco y Habichuelas Rositas

FS Parmesan Crusted Chicken

6 a 8 Personas

FS Boneless Buffalo Wings

PP Arroz Blanco y Habichuelas Rositas

PP Parmesan Crusted Chicken

Aperitivos

Sopas & Ensaladas

Quesadilla Explosion Salad

Hand-Crafted Burgers & Sandwiches

Sizzling Fajitas

Fajita Mixta (2 Proteinas)

Fajita Mixta (3 Proteinas)

Quesadillas, Bowls & Tacos

Baby Back Ribs

Half Rack Baby Back Ribs and Chicken

Steaks

Pollo

Margarita Grilled Chicken

Pastas

Pescados & Mariscos

Citrus Chicken and Shrimp

Acompañantes

Papas majadas con queso y tocineta

Canasta de tostadas de pan con ajo

Arroz blanco y habichuelas rosadas

Papas fritas con queso y tocineta

Postres

Chocolate Chip Skillet Cookie

Kids Menu

Kids Grilled Chicken Tenders

Kids Crispy Chicken Crispers

Bebidas

Agua embotellada aquafina

Licores

Presidente Margarita 750ml

Jose Cuervo Margarita 750ml

Cervezas
5-Star Reviews
Hear from people who love this spot
Food is top quality fresh and delicious.
---
---
---
---
---
---
---
---