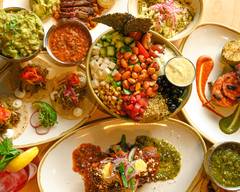 Chico Malo
View delivery time and booking fee.
Location and hours
Sunday - Thursday
03:00 PM - 09:00 PM
Friday - Saturday
03:00 PM - 11:00 PM
---
Entrées

Duck fat masa, cherry pecan mole aji Amarillo, roasted corn, queso fresco fresnos, and banana leaf.

Braised chicken, Anaheim, poblano omission gluten-free lager, fresno asadero, crema, and blue corn tortilla.

Shredded beef, guajillo, garlic, oregano crema, queso fresco, and flour tortilla.

Poblano, zucchini, squash, onion Oaxaca, crema, tinga, red onion queso fresco, and rice.

Chicken, tinga, asadero, Monterey Jack chorizo, roja, verde, criolla aji Amarillo, and Cotija.

Traditional pork and hominy stew, guajillo pasilla, arbol, chipotle, cumin garlic, oregano, and tortilla.

Red bird farms boneless half chicken, achiote guajillo, farro, nopalito, and roasted corn.

Snack river farms pork short ribs, tomatillo blistered Chile, and blue corn tortilla.

Slow cooked for five and half hours with fresh vegetables and herbs - our beef barbacoa is nice and tender. Wrapped tightly in a banana leaf it absorbs the natural sweetness from the roma tomato, the personality of the anaheim pepper. the aromatics from the clove, oregano and cilantro and deep richness from the extended cook time and the touch of tallow.

Ensaladas

Romaine salad, heirloom cherry tomato coria chimi, and red onion bonito aji panca Caesar.

Romaine and baby kale salad, daikon sprouts fennel, pear, cucumber, charred broccolini tajin glazed pistachios, pepitas sesame sticks, and roasted poblano buttermilk.

Baby kale, quinoa, smoked marcona almonds roasted corn, hibiscus watermelon, queso fresco wonderland tomato, jicama, and black barley guanabana vinaigrette.

Asadero

Grilled, served with hand pressed blue corn tortillas.

House specialty cauliflower "steak", chimichurri black bean puree, burnt lime jicama, cabbage, and naranja agria.

Wild caught Mexican white shrimp, nopales heirloom potato, charred lime, and aguachile.

Free-raised grass fed skirt steak, guacamole salsa quemada, cipollini charred tomato, and roasted Anaheim.

Mushroom, chimichurri, and roasted corn smashed fingerling potato.

Para la Mesa

Fried potato taco, asadero, Oaxaca, roja fondue de queso, verde, escabeche chorizo jam, and crema.

Poached corn, tajin butter, aji mayo coria, corn nut, chili oil, and lime.

Hand pressed local flour tortilla. 3 cheese blend of Oaxaca, Menonita and Monterey Jack. With Roasted Vegetables and sides of Birria and Salsa Roja

Extras

Rice, coconut, salsa verde pepitas, coria, and red onion.

Seasonal vegetables roasted poblano buttermilk.

Pinto beans, bacon, and pork belly poblano.

Black beans, garlic, and coriander pimento.

Soda, Margs and MORE

1 Liter. In a glass bottle.

1 Liter. In a glass bottle.

Chips

1st place at az taco fest 2018. Avocado, lime, onion, cilantro, and jalapeno.

Tomato, onion, jalapeño, cilantro garlic, guajillo, and chipotle.

Tomatillo, onion, poblano, jalapeno cilantro, and garlic.

Salsa yucateca, pistachio tahini epazote, and hominy.

Shrimp, white fish, "michelada" cucumber, onion, jicama, and lime.

Hummus, salsa roja, and guacamole traditional.