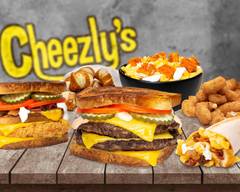 Location and hours
606 Broadhollow Road, Melville, NY 11747
Every Day
11:00 AM - 11:45 PM
Cheezly's
4.6 (118 ratings) • Fast Food • $
  •  
More info
606 Broadhollow Road, Melville, NY 11747
Picked for you

Entrees

Bacon Mac & Cheese Burger Melt

Buffalo Chicken Tender Melt

Artisan Series

Snacks

Wisconsin Cheddar Cheese Curds

Broccoli Cheddar and Bacon Bites

Bavarian Soft Pretzel Bites

Cheezly's Signature Cheese Sauce

Deliciously Fried Mozzarella Sticks

Bakery

Chocolate Chip Fudge Brownie

Delicious cheesecake with your choice of flavor drizzle!

Kids Meals

Includes your choice of Entree, 2 Pretzel Bites and Apple Juice

Value Menu

4 Pc. Bavarian Soft Pretzel Bites w/ Cheese Dipping Sauce

Chipotle Cheese Quesadilla

Classic Cheese and Chipotle Quesadilla

Value Size Portion Of Our Mac & Cheese

Macaritos

Our Signature Mac and Cheese, and Deliciously Shredded Cheddar Cheese, all rolled into a Freshly Toasted Flour Tortilla.